Well, the rainy season has arrived.
To most people this doesn't sound like a big deal. But I would have to say that most people haven't had to navigate public transportation while the streets of a major metropolitan city are flooded.
Let me explain. Santiago is notorious for having a poor (ok, nonexistent) drainage system. When the weather forecast shows rain in the winter time here, people usually are pretty serious about being prepared. English teachers included.
Monday actually wasn´t that bad of a day with the rain. I had a class in my apartment, then another in Ñuñoa. I could have walked there, but given the weather forecast (ok, that´s a bad excuse, I was actually feeling lazy) I decided to take a bus. At that point it hadn´t started raining yet, but when I got out of that class at 2:30 it was raining cats and dogs. I had some time to kill, so I got some tea and Dunkin Donuts at the nearby mall before getting a bus to my next class. It turns out I actually beat the family home, as they had stopped at the grocery store to pick up a few things.
After standing in the rain for about five minutes, I was happy to be inside and warm. (Don´t worry, I had an umbrella with me!) The mom asked me if I wanted some Peruvian food, and how could I say no? So she heated it up for me while I taught her daughter and drank some hot tea.
Towards the end of class, she told me that she had to run an errand and offered to drive me home. Given this weather I was very relieved. As she drove me home we drove through huge puddles and streets where the water went up over the curb. When cars and buses drove through the water they soaked the poor pedestrians walking by. Luckily I was able to dash inside without getting to wet.
When I got inside, I turned on my space heater and took a hot shower. As I was doing some lesson planning I noticed on Facebook that the Ministry of Education had cancelled school on Tuesday for all public and private schools in Santiago. The rain was still going strong, and more of it was expected for Tuesday.
On Tuesday I was expecting a long day, so I prepared myself with lunch for on the go, all my teaching materials, and an extra pair of socks and underwear in case I got soaked halfway through the day. (And no, I´m not kidding about that). I just thought to empty out my bookbag and set it my the space heater to dry off. What do you know? The extra pair of socks and underwear got wet inside. It´s a good thing I didn´t need them!
So my morning class in Providencia was fine. I just took a colectivo and had a ten minute walk there, and the rain wasn´t that bad yet. After that, it was a short walk to Starbucks while I waited for my next class.
My lunch class was the one I was dreading, though. After killing about an hour and a half at Starbucks, I decided to head out and get the bus to Las Condes. It´s only about 25 minutes by bus from where I was, but the distance and then traveling back is a bit of a pain. By this time it had started coming down like cats and dogs.
I arrived about 10 minutes early, and so I went to wait in my student´s office. As I noticed no lights were on, I had a sinking feeling. My suspicions were confirmed when a coworker popped her head in asking who I was waiting for. After a quick phone call, she confirmed that my student wasn´t in the office today.
I normally don´t mind a situation like this, but given the rain and the fact that I could have left Starbucks earlier and taught my other classes earlier I was a bit annoyed. I tried calling the father of the kids class I teach next, but he wasn´t answering his phone. I decided to go to the kids class early and hope that they were home and able to take class when I arrived. There´s no point in getting frustrated about things I can´t change, I told myself.
The rain has gotten even harder, and the curb is close to overflowing at the bus stop. After about 8 buses went by that weren´t taking the route I needed, I was finally able to get on. One more bus, and I was a five minute walk from my next class. On Manquehue (one of the main roads in the Las Condes area of Santiago) the road was completely flooded. There was no way I was going to cross the street without getting wet up to my ankles, so I just got across as quickly as I could.
When I arrived the mom was on her way to work, so she let me in through the gate. The only problem was now that there wasn´t a doorbell inside. I knocked on the door about ten times before one of my puzzled students answered the door. She seemed surprised to see me, and once I was inside I explained the situation to her.
Luckily, her and her brother were fine with having class an hour earlier than normal. They had friends over since they had the day off from school, so I included them in the classes and we played games the entire time. It made for a nice class and was a good way to get my mind off of the weather.
Afterwards I was supposed to teach another class. Given the 25 minute walk crossing multiple flooded streets I called up the family and told them I was cancelling the class. They were very understanding, and so I started to make my way home.
I crossed Manquehue again, so that meant more soaked feet and squishy shoes. One bus transfer later, and I´m at Pedro de Valdivia with Bilbao. Another transfer later, and I´m about 3 blocks from my apartment. A few more ankle deep street crossings and I´m home free.
Just to prove that I´m not making this up or exaggerating here are some pictures I snapped from earlier today: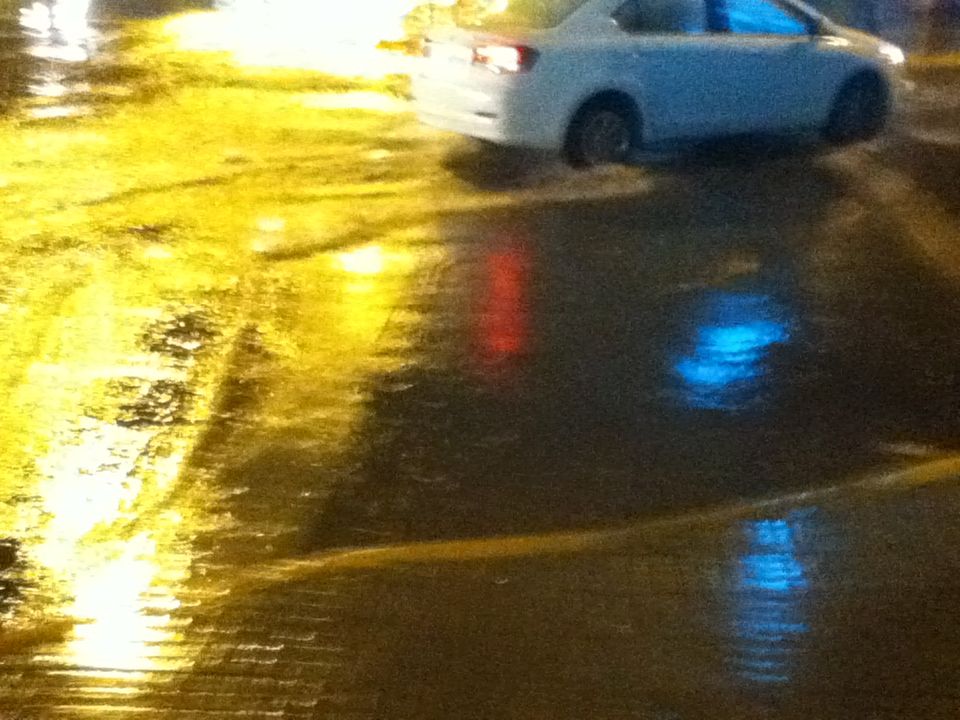 This was at the intersection of Manquehue with Colon.
First intersection on my way home.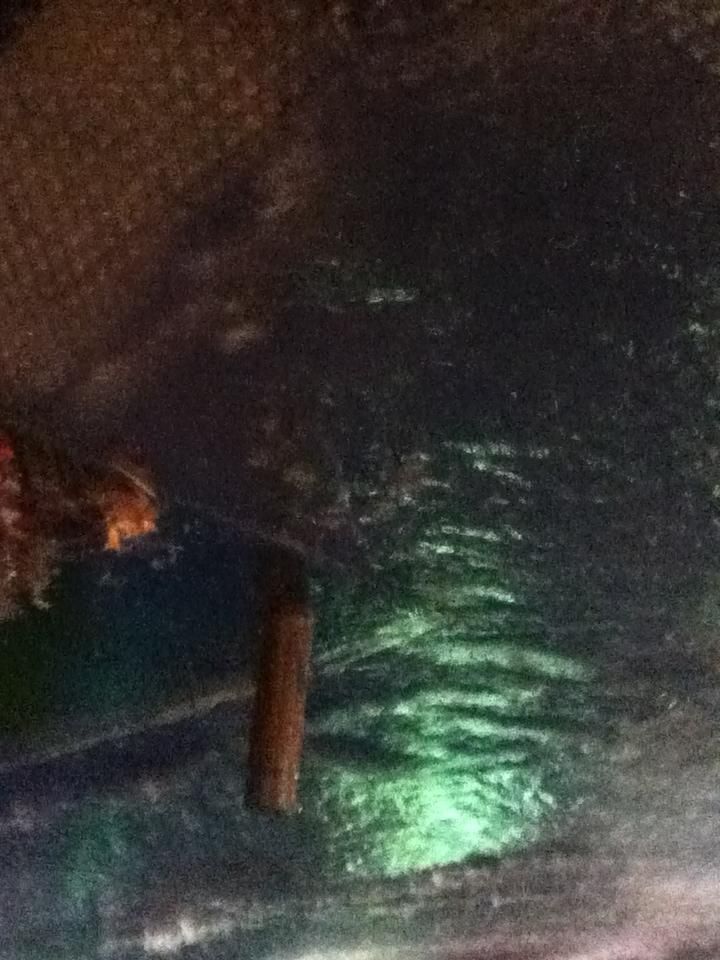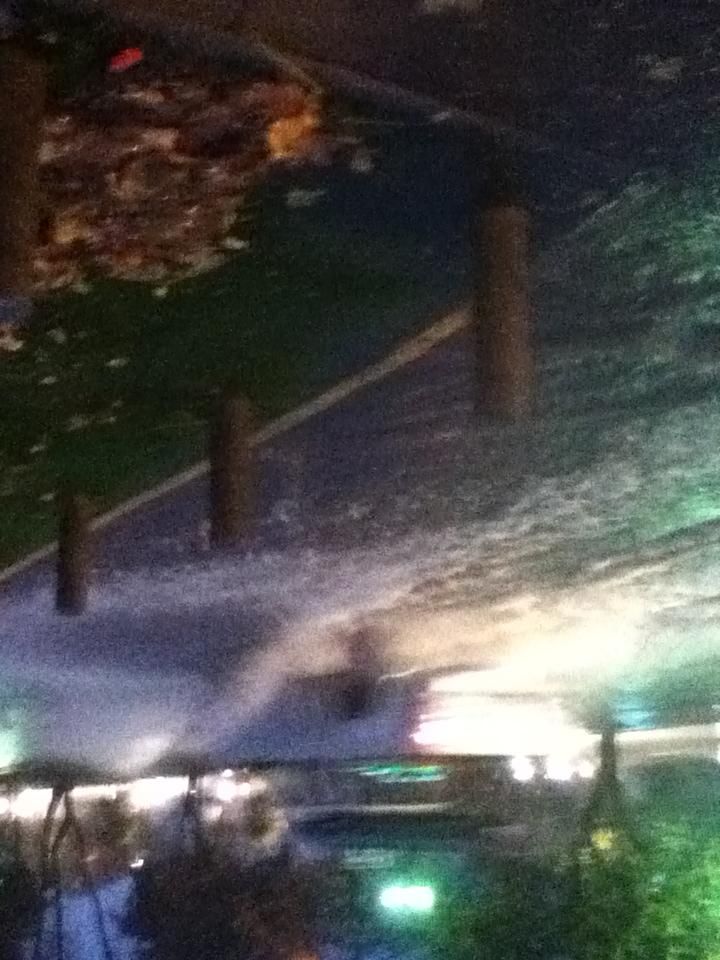 If you´re not careful you will get soaked by
the huge puddles.
Here you can see the water coming up over the curb.
This was on Irarrazaval, near my apartment.
The last intersection I had to wade through to get home
It turns out that I´m not the only one amused by the weather. I came across two memes about the rain:
Gentleman, it has been an honor playing with you.
Stay calm, it´s not raining!
The last picture shows Michelle Bachelet, the former President of Chile. She has been widely criticized for not acknowledging a tsunami alert after the 2010 earthquake when the danger was imminent, and people died in the tsunami as a result. This last meme is a joke regarding the weather these past two days.
I´m glad to have made it home as dry as I did, and I know that tomorrow the sky will be clear and the air will be clean. Even though it does make my life more difficult as a traveling English teacher, I think a few days of rain and some squishy shoes are worth it in the end.