So this past week was pretty busy.
In my last post I left everyone hanging as to what I´m doing now that I´ve left Grants English. I have started with another institute called Eclass. It´s also based in Santiago and offers classes to business people wanting to learn English. There are a few differences that really stand out compared to Grants. Eclass also offers classes at colegios (K to 12 schools) and universities, and this is something I´ve been looking to explore for a while. They are also much bigger and as a result have a lot more staff and organization. Eclass also uses blended learning, meaning that students do online work once a week and then have classes with a teacher once a week. It´s an interesting concept that really makes students take more responsibility for their learning, and I´m curious to see how it works out with the classes I have.
I had induction, and it became clear to me that Eclass has high and clear expectations of its teachers. Everything was laid out and explained to us, and I will be doing a good amount of online updating of attendance and grades. I´ll also be following a book that Eclass has developed and supplementing with my own materials and activities as necessary, so it will be interesting to see how that works out. I already have three classes with them and will be getting a few more next week, so I will be busy.
Wednesday was a holiday here, and so I invited Phoenix over for another gringo breakfast. I´ve grown a bit tired of pancakes and decided to experiment with French toast. On Tuesday evening I realized that everything was going to be closed on Wednesday, so I gave Phoenix a call to see if he could get the bacon and bread that night, and he told me he´d take care of it.
Well, let´s just say it was the start of an adventure involving visits to a lot of different food stores and mini markets. As I was getting out of class at 8:15 that night, Phoenix sent me a text that he got to Jumbo (a huge grocery store here) too late and they were already closed. I walked to the Lider across the street from my last class, and they were already closed too. Phoenix checked out a few mini markets in his area, and as I rode the bus home I started thinking where I could stop on my way home.
Jumbo in Las Condes on my way home? Closed.
Lider on Pedro de Valdivia and Bilbao? Closed.
It was not looking good, but then I saw it: A Big John was open. For those who are unfamiliar, Big John is a mini market chain here. After rushing in and exploring the store thoroughly, I came across a small loaf of white bread. No luck on the bacon though. Since I got off the bus a few stops early I decided to walk home from there. The OK Mart and Santa Isabel were both closed, so I felt the impending doom of having a gringo breakfast without any bacon.
OK, I know that impending doom is a bit dramatic. Perhaps hopeless despair is a better expression.
Just to be sure, Phoenix stopped at a few places on his way over on Wednesday morning. His efforts turned out to be fruitless (or baconless if I may). We were both so hungry that we forgot to take pictures of our food: scrambled eggs, papa duquesas (Chilean potato puffs), and French toast that I somehow managed to scramble. Breakfast was followed up with a few hours of good conversation about our lives, past, present, and future.
Click here
if you´d like to check out his blog which he updates daily!
After a nap, I was ready for my next food adventure of the day: Taxco! This begins customer service adventure #1.
I had made plans with a friend I hadn´t seen in a while. She also likes Mexican food, and after my last foiled attempt trying to eat at Taxco I figured this would be the perfect opportunity to eat there. To be 100% sure I wouldn´t be disappointed, I called them up the day before. They assured me "si o si" (literally yes or yes) that they would be open on Wednesday despite it being a holiday.
Let´s just say that I had an underlying feeling that they would be closed. And let´s just say that I was right.
The hopeless despair was almost too much for me to take for one day, but we ended up going back to my place and ordering Papa Johns. While we waited for it to arrive, we caught up and watched Family Guy to pass the time. (It took close to an hour and half!) It was a good time in the end, and hopefully we´ll get to catch up once more before she goes back to the States at the end of June.
Customer service adventure #2 for the week took place at one of the local supermarkets, Montserrrat. Last week I saw that they had Bailey's Irish Cream on sale, so I made a mental note to buy it the next time I was there. In the alcohol aisle I asked a store clerk for a bottle of it, and he pointed me over to the information desk. Once I got there, the clerk told me I had to go over to the alcohol aisle. When I told him what they told me there he seemed confused and made an announcement over the loudspeaker for someone to come help him. No response for a few minutes. He once again asks for help, and eventually someone comes over. This store clerk once again pointed me over to the alcohol aisle, and when I told him the same thing he then disappeared.
Five minutes went by, and a security guard saw me standing there and then asked me if I needed help. I explained the situation to him, and he told me the key was right there at the information desk! He went to look for it to no avail. Then another clerk came along, and she told hin that she didn't have the key either.
Another five minutes later the clerk who disappeared came back with a few boxes of Bailey's from the back of the store. I thanked him and then went to check out.
Well, you would think it would end here. BUT IT DOESN'T.
It rang up for the full price of 9,190 pesos, which is about $18. It was advertised in their flyer for 7,790 pesos, or about $15.50. I didn't have enough on me to pay the full price, and I explained the situation to the cashier.
Of course she wasn't able to verify this on her own, so after a few people coming over and then checking the price over in the alcohol aisle they finally understood that they price I was telling them was in their flyer. The fine print on the flyer indicated that it was a Mother's Day special, and therefore those prices were only valid from the 9th to the 12th of May. I guess I'll have to wait for my Bailey's fix. Darn!
Customer Service Experience #3 wasn't as bad or as long as the other two, so stick with me!
I tried going to an Entel store that was near my apartment to get internet on my phone a few days ago. This would have been convenient since I didn't have time to go into downtown. It turns out the location was closed for the day due to "fuerzas mayores", which literally means
greater forces
. I guess there must be some type of divine intervention that doesn't want me getting internet on my phone.
My attempt to go to Mendoza again this weekend turned out to be another nonadventure. My friend who is staying there for the month had a friend that was going to drive there, and so I was planning to go with her on Friday night and then come back on Sunday.
Well, it looks like the weather had other plans for me this weekend. On Thursday night we got rain here in Santiago, and I had the feeling that it would travel to the border and result in snow in the mountains. Sure enough, the border was closed on Thursday evening. Checking
the official website for border crossing between Chile and Argentina
for updates on Friday didn´t bring us any good news.
So another nonadventure it is then. I got to go to the gym, did some shopping at the farmer's market and grocery store, and later today I'll be working on the organization of my teaching materials.
I began this process last weekend, and to help pass the time I watched Ferris Bueller's Day Off and American Pie. Here's what it looked like:
The headquarters of the operation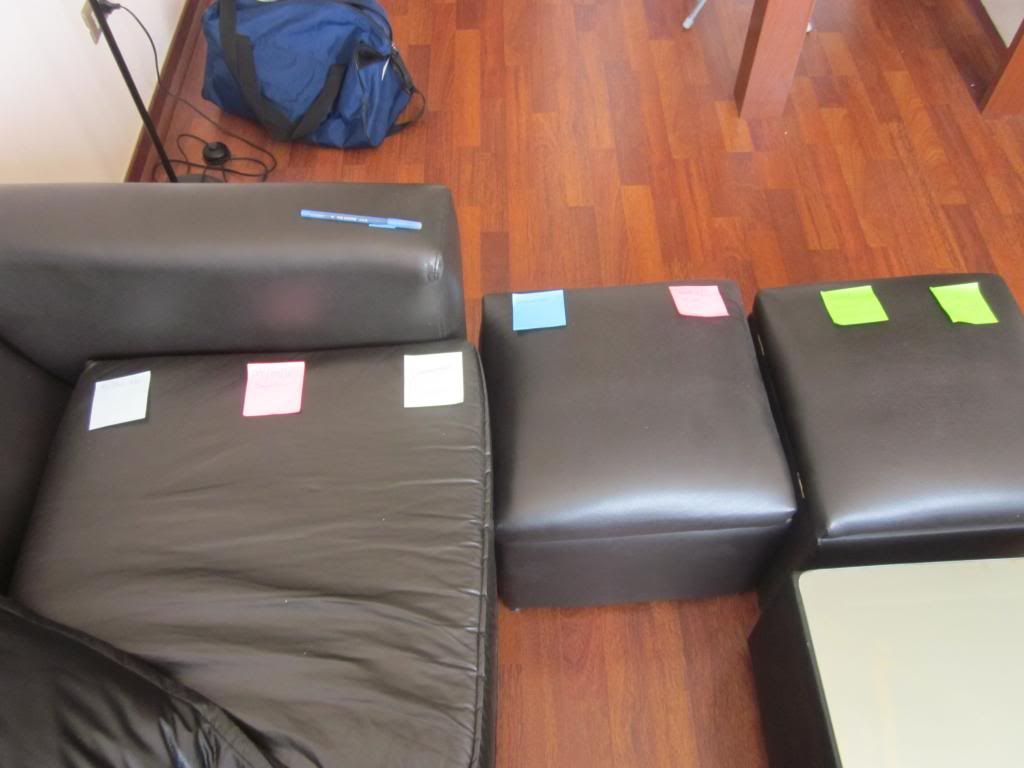 Each post it had a different grammar point to help me sort everything.
This wasn't nearly enough space sort everything.
Let me explain. In the teaching profession in the States, you learn very quickly that you cannot only teach with the materials from the textbooks that you school provides. In some situations you don't even have a textbook or the workbooks and accompanying materials. So what do teachers do? They seek out resources on the internet, find good teaching materials, share with others, and often spend hundreds of dollars out of their own pocket each year in order to provide their students with the best learning experience possible.
I have tried explaining this to fellow English teachers here that don't have teaching experience back home, and some of them don't understand or openly disagree with my binders full of materials I have compiled and books I have purchased. I can totally understand people making the argument that I could store documents digitally, but unfortunately GoogleDocs distorts the settings and margins, meaning I'd have to reformat the document each time I use it. Maybe it's just me, but there's a certain novelty of having a book in your hand as opposed to having a digital copy, and I find that if I buy digital resources I forget about and never use them.
Dpesite that, some teachers don't seem to think that finding resources, sharing ideas, and going to teaching conferences is something that they should be doing. I tend to take it personally and feel insulted by their lack of respect and dedication to the profession, but rather than spend time with people like that I've decided it's just better to keep developing as a professional and spend time with teachers that share the same philosophy as me.
On that note, I should get home and do some more work organizing my materials and lesson planning. It's a tedious process, but I know I will feel much better once it's over. Thanks for reading and Happy Saturday everyone!