It's a relaxing Sunday morning, and I'm updating from my favorite coffee shop Condi in Ñuñoa.
Last weekend ended with an unexpected adventure. I went to La Vega to stock up on meat and veggies, and on the bus ride home the bus was overtaken by soccer fans. Somehow a stray dog also made it onto the bus. They began chanting, singing, and banging on everything. After about a minute of this they seemed distracted enough that I decided to take out my Ipod touch to record their antics. Here´s a short video that I was able to take:
You can´t tell in the video, but the poor dog seemed bewildered and was trying to find a place to lay down. About 30 seconds after putting my Ipod touch safely into my pocket, one of the soccer fans caught on to what I had done. He started yelling in my face and tried grabbing for my pocket. I feigned ignorance and surprise, and luckily about 10 seconds later they all got off the bus to walk the rest of the way.
After asking some friends I found out that there was a soccer game at noon that day. (I was on the bus at 11). Lesson learned: soccer fans don´t like you documenting their antics. It left me a bit shook up, but I´m very grateful that it didn´t get any worse than it did.
This week was pretty social for me by my standards. I went out with my friend Liz to a place called Mamut celebrate her birthday. We came to Chile at the same time, and we both stuck around past our year with TeachingChile. She has become a university professor and is incredibly hardworking and an excellent friend, and I really enjoyed catching up with her.
Happy Birthday Liz!
No matter what I did I couldn´t get this picture to dsiplay with a landscape view!

In the middle of the week one of my friends invited me out to get pizza with her and a bunch of people who work at her school. The school has zero resources, and the teachers at the school are very hardworking and want to give the kids the best education they can given their situation. We´re going to see about ways we can share information and work together to help the kids out. It was interesting meeting some new people.
On Friday I had lunch with Ceci, the girl who I met at the wedding down in Concepción, and her niece. I decided to try a tortilla española with chorizo (literally a Spanish tortilla with sausage, but more like a potato omlette), and after our meal we decided to get some ice cream. Since it was cool I opted for some hot chocolate. It was great seeing her again and getting to catch up.
Yesterday was a repeat of an adventure that I have had before: Fantasilandia.
I enjoy going back each time, as I really enjoy amusement parks and roller coasters. This time I went with Phoenix. If you haven´t checked out his blog yet,
here it is!
Due to slow service at the grocery store I was running late, and he actually arrived to my apartment before I did. We decided to have a gringo smoothie before heading out, and then of course we got on the wrong bus going there. (OK, this was my fault. I thought all buses going down Grecia connected to Matta and eventually went to Parque O´Higgins.)
We arrived at about 12:15, shortly after the park opened. The weather was beautiful, and there weren´t a lot of people there. It was about 75 and sunny, and the longest line we waited in was about 25 minutes.
We went on three rides first: Ikarus, Raptor and Kamikaze:
View from the top of Ikarus
Getting ready to ride Raptor

On the ride up....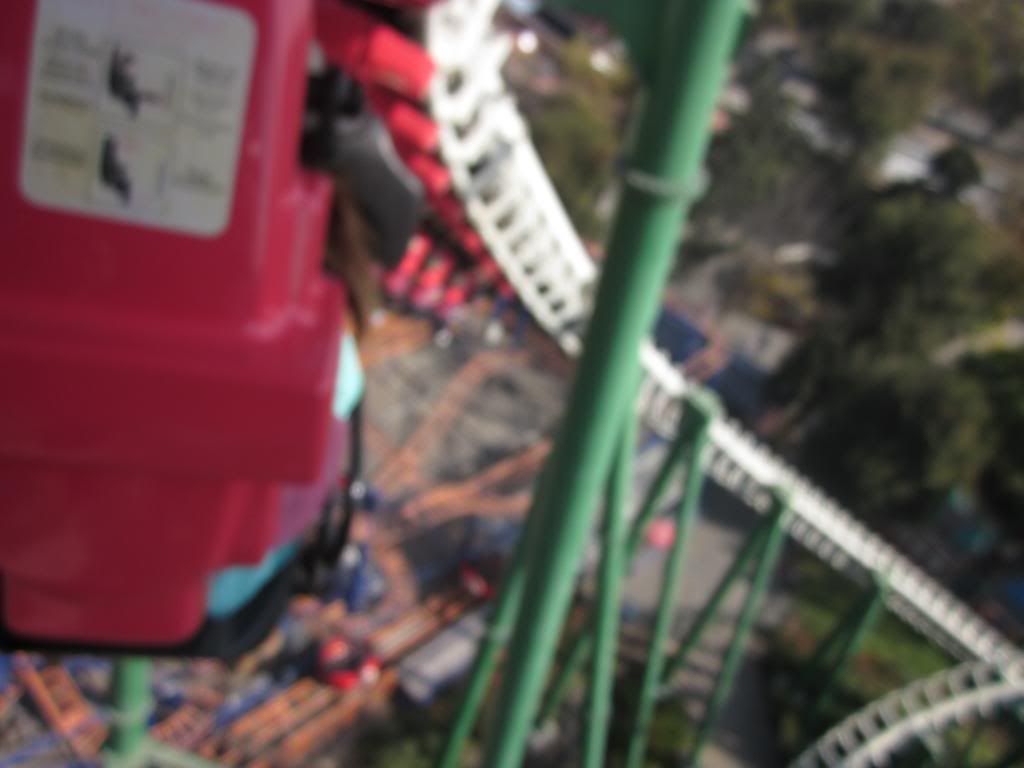 And on the ride down!
In the middle of a corkscrew loop
I found this sign on the Kamikaze amusing: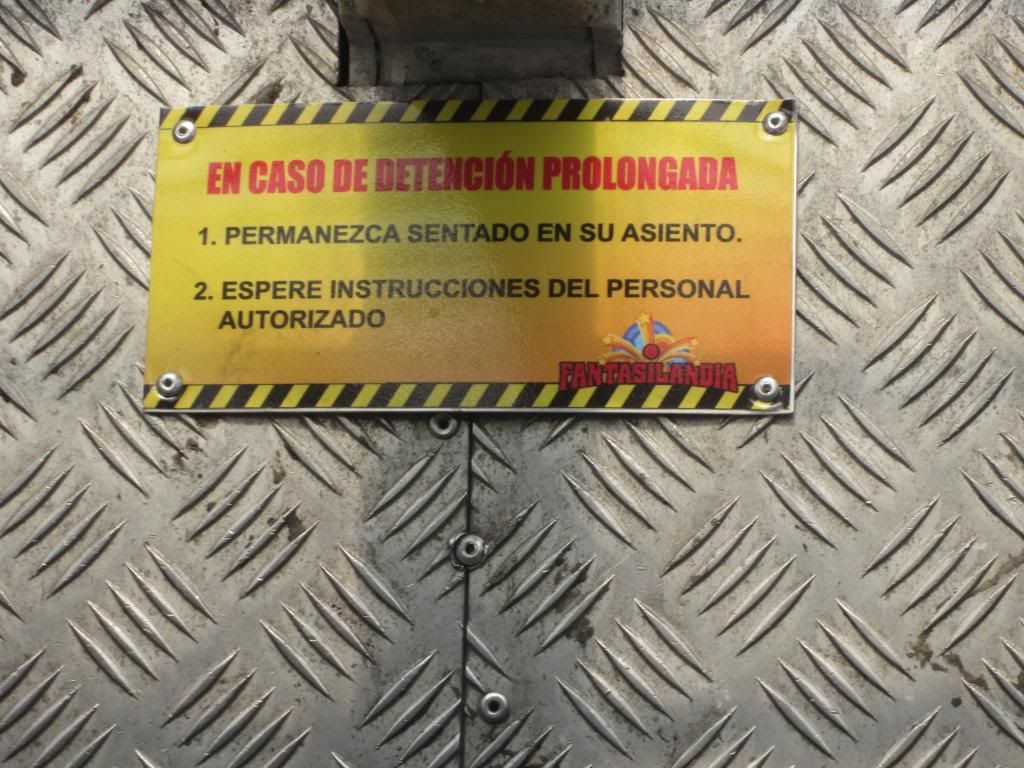 In case the ride gets stuck: 1. Stay seated. 2. Wait for instructions from
the ride operator. Seeing that I´m strapped in I don´t know what I would do otherwise.
That was fun! THen we decided to walk around a bit. As we went past the log flume, the following conversation ensued:
Me: I don't know about you, but I'm not in the mood to get wet.
Phoenix: That's something I should have taken care of earlier.
Me (very confused): Getting wet?
Phoenix: No. I need to find a restroom.
After using the restroom, 2 non-functioning hands dryers, and getting a gourmet lunch, we decided to give some more rides a go.
Some of the rides like the bumper cars and Wild Mouse were pretty tranquil.
I don´t know if you can tell from this picture or not, but there are no seat belts. You just hang on for dear life while the ride spins around and jostles you all over the place. You would literally bounce a few feet off your seat, and I wouldn´t want to imagine what would happen if you lost your grip. I can truly say I´ve never been on a ride like that before.
We went on a few more rides before calling it a day. Evolution took up completely upside down and spinning. Here are some pictures to give you an idea about what it was like:
The park´s newest ride is called Air Race:
One thing really stood out on my visit this time. I don't know if it's just me, but I never remember noticing so many sexual images during my visit there before. Here are some examples:
I don´t remember Kid Ikarus being anything like this when
I played it on Nintendo growing up, nor do I remember learning
about Greek mythology like this in school!
All in all, Fantasilandia was a great day and a great escape from the stress of the workweek.
Happy Sunday and Happy Mother's Day to everyone reading!