My trip to Valdivia was great.
For those of you that aren´t familiar with Valdivia, it´s a small city in southern Chile. It is probably best known as being the epicenter of the 1960 earthquake that registered a whopping 9.5 on the Richter scale. As many other places in southern Chile, Valdivia is also known for having fish markets, lots of seafood, and German chocolate.
On Thursday night I caught an overnight bus from Santiago leaving at 9:25 at night. While it wasn´t the most comfortable nights sleep I´ve had, it got me to Valdivia in eleven hours for 13 luka (about 26 bucks). Given the price of airfare that can´t be beat.
We arrive at about 8:30 in the morning, and it was overcast and drizzly. I didn´t know what my breakfast options were going to be in town, so I decided to scope them out at the bus station. There was a donut shop and a kiosk selling sandwiches and juice. I settled on an egg and ham sandwich and some juice, and I asked the woman there how much a taxi to my hotel cost. She told me that I should pay between 2.000 and 2.500 pesos, but then she told me that there are colectivos and buses that I could take.
The bus station was really clean and modern.
I considered this for breakfast but decided against it.
Sure enough, I was able to get a bus for 400 pesos that left me right in front of my hotel. It was a bit different paying my fare in coins instead of tapping my BIP card like in Santiago, and I felt a bit out of place with my bags on the bus and the buses seem more run down than in Santiago, but that´s part of the travel experience.
At the hotel I was able to relax a bit, change clothes, and drop my bags before going out to explore. By that time it was about 9:30, and as I wandered one of the main streets I came across what seemed like a nice little coffee shop. I say seemed because when I went to go inside the door was locked despite the lights being on and the hanging sign saying
abierto
(open).
Moving on, I came across another coffee shop with that looked inviting. Inside it was bustling, and I noticed it was all natives. This is a good sign, as it gives me the hopeful indication of good food and service. I decided to check up on some emails and Facebook over some hot chocolate and a slice of chocolate cake.
Afterwards, I wandered down the main streets and came across a fish market. They were also selling fruits and vegetables, but the fish stood out a bit more in the sense of smell department. At the end of it there was a tourist information booth, so I decided to check it out.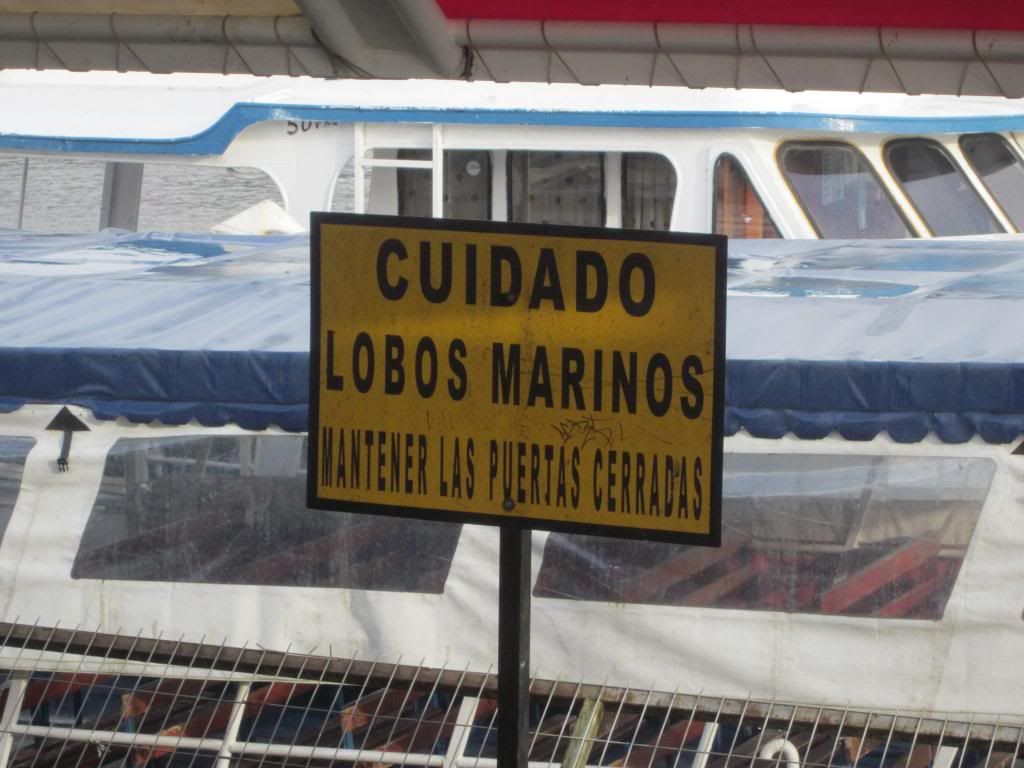 Careful: Sea Wolves. Keep doors closed. (I guess that´s what
they mean for seals!)
So it turns out there are tours to islands that have some pretty impressive forts, but they aren´t running now due to it being low season. I could catch a bus to the Kunstmann brewery, but that would take half an hour each way. I also didn´t know that I´d want to do something like that alone, so what else is there? I could walk around and get to see the Universidad Austral and the botanical garden there, and there are also some museums on the other side of the bridge. There´s also an interesting 3 hour boat tour that shows some of the important rivers in the area that will happen after lunchtime, so that sounded good.
So crossing over the bridge I headed south to the museums. It seems like they were all closed, so to Universidad Austral and the botanical gardens it is. The campus at Universidad Austral was pretty big, and I found myself stopping multiple times to make sure I was on the right path to get to the gardens.
View from the bridge
Don´t get me wrong. I like gardens, and I like green. One of my students had told me that the botanical gardens are
preciosos
in her words. Well, they were green. There were lots of trees and plants. It was also very wet, raining, and full of puddles. I can picture the garden being the perfect place to sit on a bench a read a book or catch up with friends, but visiting during the rainy season doesn´t really let that happen.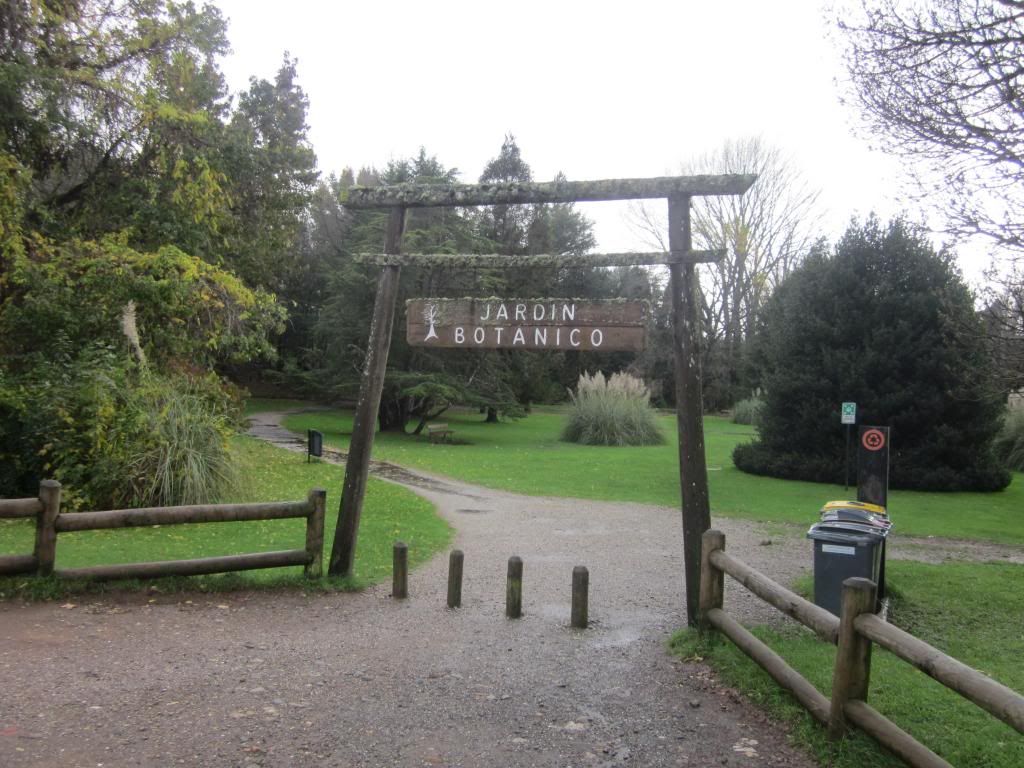 Notice the puddle of water along the path that I had to bypass.
After that I decided to make my way back to book the boat tour and then to the hotel. Surprisingly the boat tour was only 6.000 pesos, and after getting my ticket I started to go back to the hotel. What´s that? A mom and pop bakery with fresh bread? Now I have to check that out! The smell inside was very tempting, and I picked up a snack of some apple Kuchen for the walk back to the hotel.
I also came across an artisan market. This was perfect, as I´ve been meaning to find some presents to bring back with me for my next visit to the States.
After a short wait my room was ready, and I laid down for a nap. An hour later, I felt recharged and headed out for some lunch before the boat tour. I came across the cafe that was closed this morning, but every table was full. Going next door, I found a mom and pop restaurant. After asking for their explanation of carbonara (I didn´t know if it was spaghetti or something else), the waitress disappeared. I thought it was strange that she would get the actual dish to show me, but then she came back with someone from the kitchen. The woman said to me, "I explain in English?" I was surprised and told her that I speak Spanish fine, but that I just wanted to know what carbonara was. She seemed relieved and made her way back to the kitchen, and I found out that it was a type of soup with potatoes, vegetables, and some meat in it. Given the cold weather it sounded like a good idea.
I paid the bill (2.000 pesos or 4 bucks isn´t bad for a homemade lunch), and then made my way to the dock for the boat tour. After getting on I saw two girls speaking English, so we started talking. It turns out that they are volunteers teaching English through English Opens Doors, and one of them is from New Jersey!
We had a good time talking about our experiences here in Chile as well as our lives back in the States. The tour took us through some of the major rivers of the area, and we got to visit a remote area that has some of the best beer in Chile. Rather than bore you with the details, here are some pictures: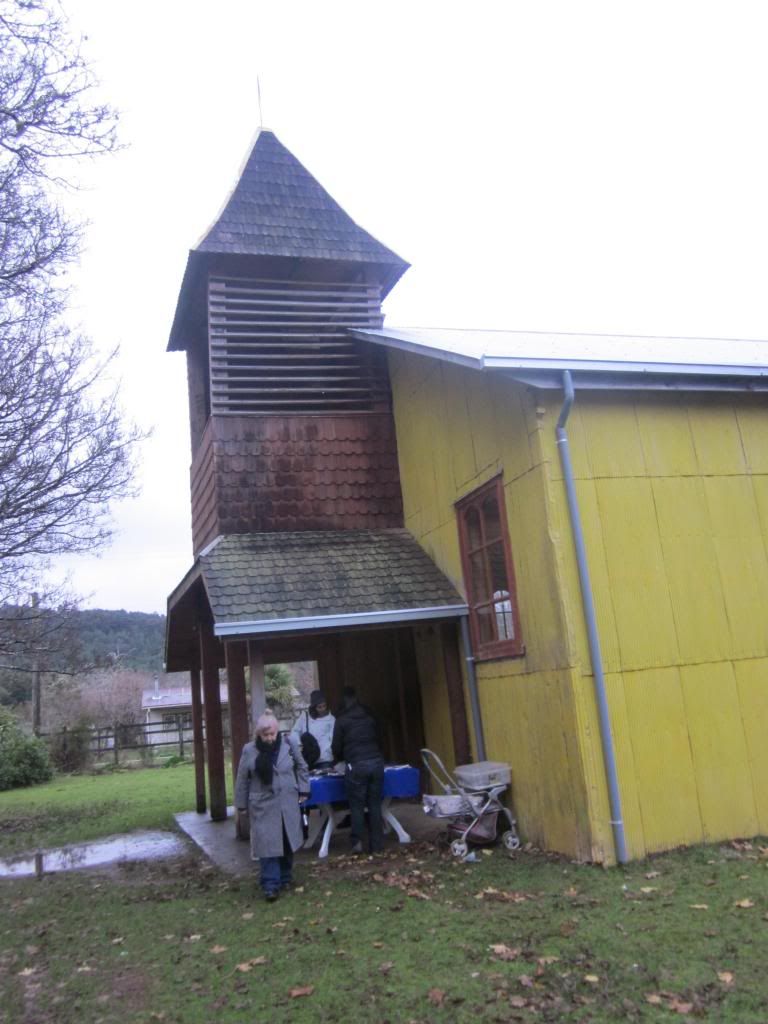 A trip to Southern Chile is never complete without
visiting at least one church.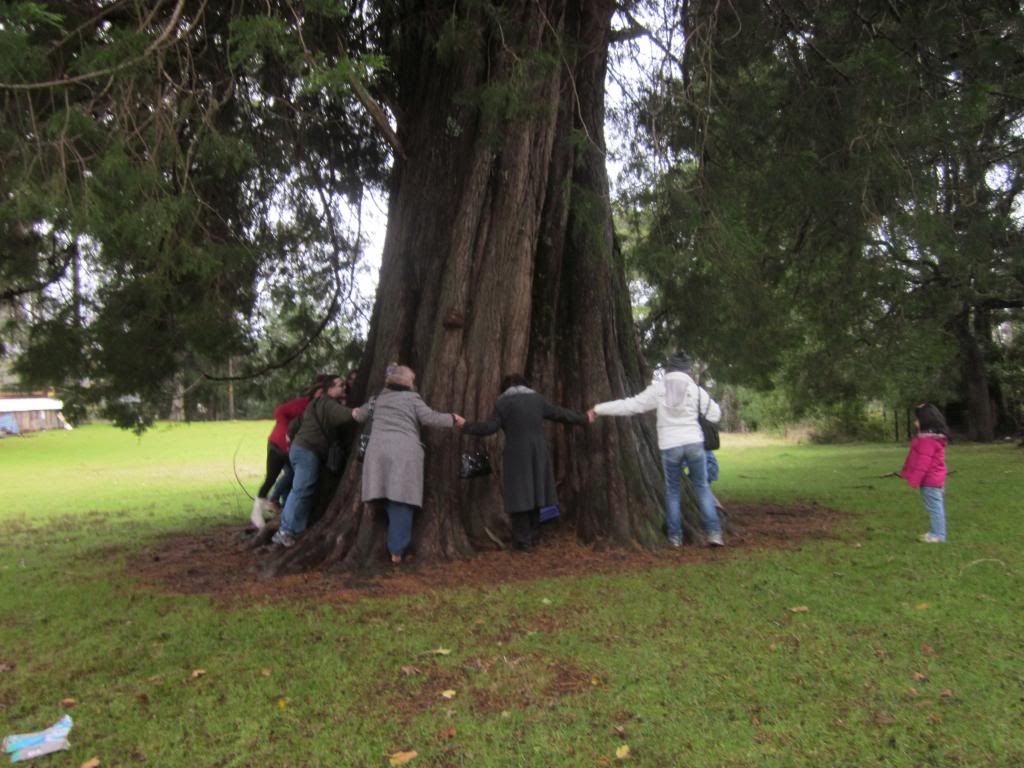 Kissing the trunk of this tree while holding hands with
a group of people is supposed to bring good luck.
Some empanadas during a break
Later on in the tour I got to speak with a nice Chilean family. It turns out that they live in Santiago and are vacationing in Valdivia, and they lived in the States for a few years due to the father´s job. We talked about meeting up for coffee so he could keep practicing his English at the end of the tour.
Even though it was only 6:30, it was already completely dark outside.
Is it me or does this look like a scene out of a scary movie?
I made my way to check out a chocolate shop. I wasn´t really hungry for dinner and the rain was starting to come down hard, so I went back to the hotel for an early night.
On Saturday morning I woke up bright and early at 7 to get ready for the IATEFL Chile conference. I looked over my presentation over breakfast before heading out.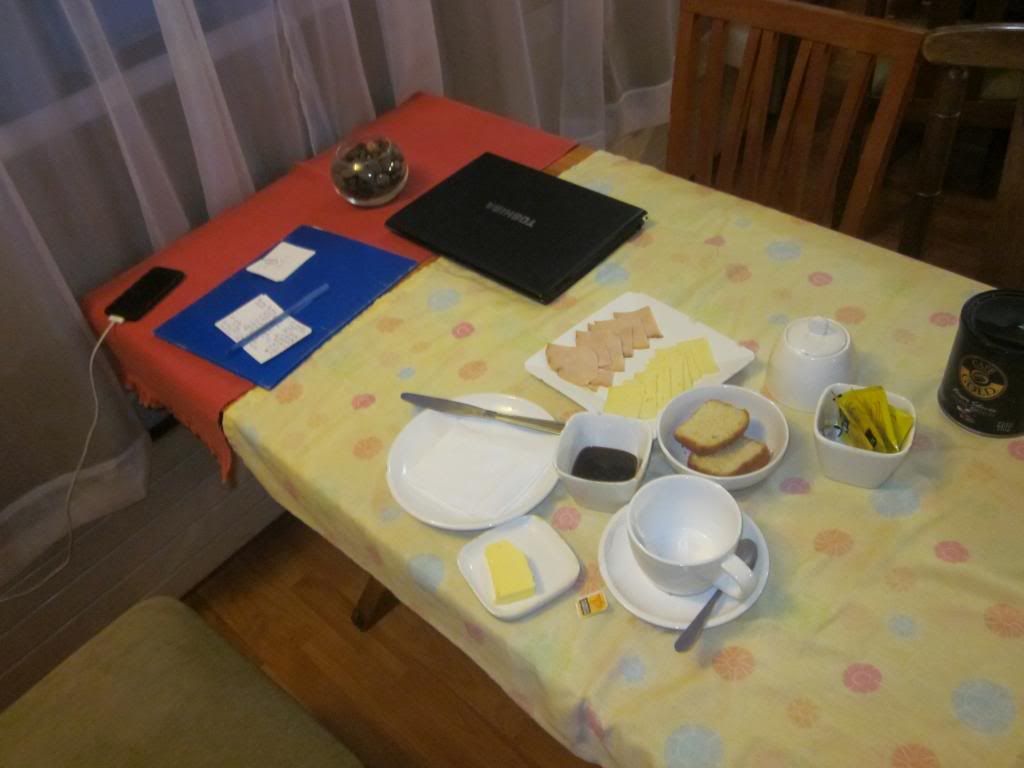 Breakfast and reviewing my presentation
In case you haven't heard of it before, IATEFL stands for the International Association of Teaching English as a Foreign Language. They have organizations in most countries where English is taught, including Chile. One of their ways of promoting English teaching in Chile is by having a conference each year. Attended my first one in July 2010 in Santiago, but I missed the 2011 one. Last year was in Santiago, but this year it was down in Valdivia.
When I arrived at the check-in area of Universidad Austral, the place was packed. Luckily there was a separate table for presenters, and so I didn't have to wait at all to check in. I decided to give one of my friends a call that was supposed to be there, and after turning around I saw her! I kept her company while she waited in a rather long line to check in. I then made my way inside to get a seat.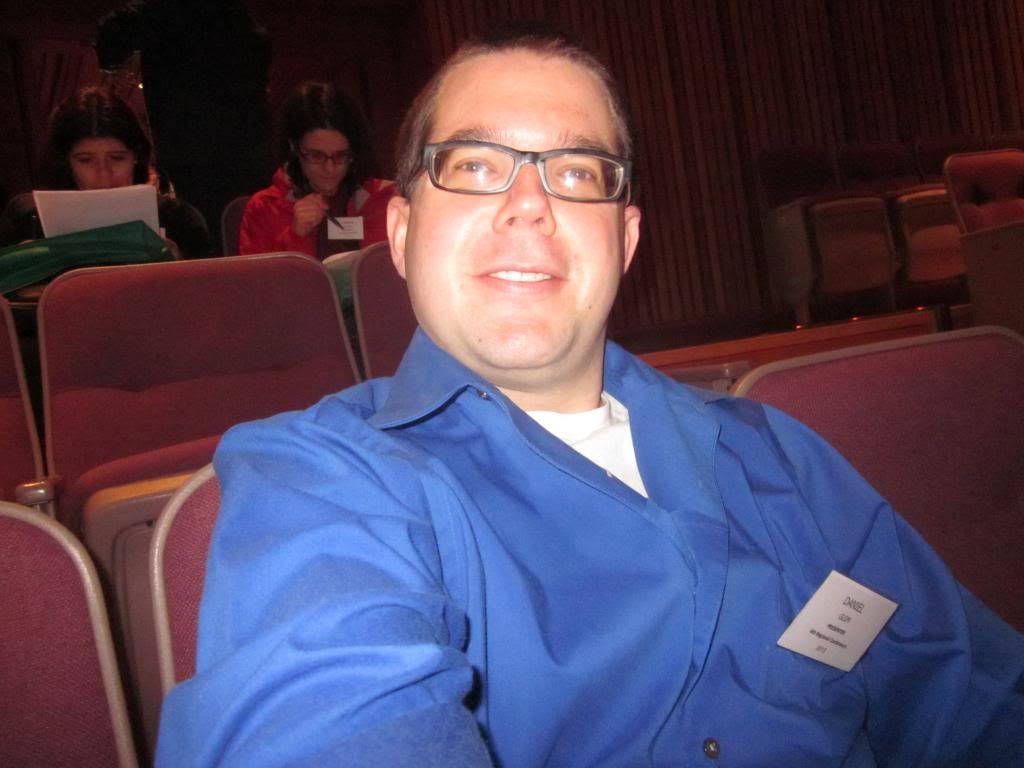 Waiting for the opening remarks
After the opening remarks, there was an interesting presentation about teaching vocabulary by Penny Ur. She came all the way from Israel to share her expertise, and her research is really interesting.
Later in the morning I got to visit a fellow teacher's workshop about orally evaluating students. It was really interesting, and she also teaches at Eclass. After a few more sessions, she, her boyfriend and I got some lunch together.
There´s roast beef under all of that.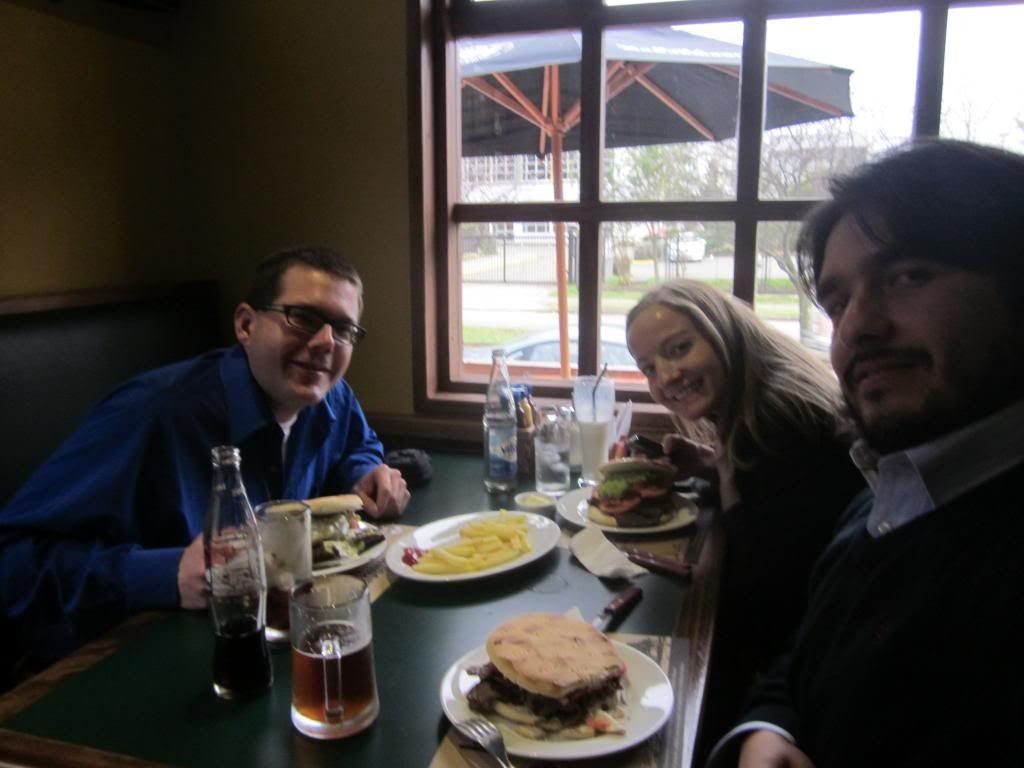 Lunch with Britt and Pepe
In the afternoon I attended two interesting sessions: one about how technology is changing education and another which was about teaching methods. Some university students have been doing research about different teaching methods, and I found that my teaching philosophy is very similar to theirs. We got to chat a bit after their session, but then I had to get ready and set up for my presentation!
I went to the room right after that and skipped the half hour coffee break. I could feel myself getting nervous, but luckily the student volunteers were really helpful getting everything set up. Someone even offered to let me use their wireless clicker and laser pointer since the computer was in the back of the room but the presentation was getting projected to the front. It turned out to work out really well, so I'll pick one up when I'm back home on vacation.
About 35 people came to the session, and overall I think it went really well. The audience was very positive and participated in the activities, and they were very understanding when I cut them short with talking with partners so that we could get through everything. I was surprised at the end when some of the participants asked to get a picture with me! (Does that make me a celebrity?)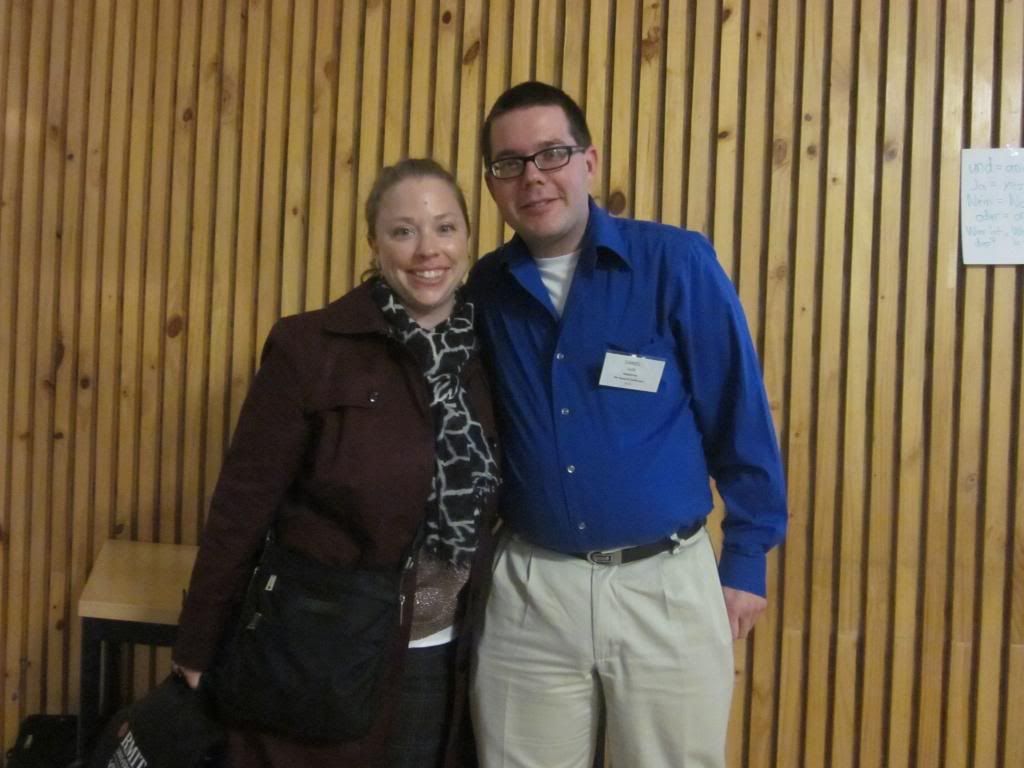 It only took us both taking a 12 hour overnight bus to actually
meet and catch up, despite both of us living in Santiago!
One plenary session later and thanking the people involved in the planning, and it was almost 7 PM. I had to make my way back into town to get my bags at the hotel and head to the bus station. My bus was scheduled to leave at 9:15, and I had enough time to plug in my cell phone and Ipod touch to charge and change clothes.
My dinner wasn't the most spectacular (A roast beef sandwich heated up and a soda at the bus station), but unfortunately time didn't really allow me to get a proper dinner in town. I did get to catch up with Nancy a bit before her bus took off (she got one fifteen minutes earlier than me!). I had some trouble sleeping on the bus ride back after such a long day, as it gave me a lot to think about in regards to my professional goals and the contacts I had made there.
After doing some writing, playing some Angry Birds, and listening to some music, I finally managed to fall asleep. I was back in Santiago by 8:00 in the morning, and I spent the rest of Sunday relaxing at home.
If anyone from IATEFL Chile is reading this, thank you for the wonderful opportunity to present and thank you for bringing together English teachers to share and perfect our practice. I´m looking forward to the next conference in 2014.