So today was the rescheduled day for my tandem jump skydiving.
In case you have missed my previous post, my jump was supposed to happen two weekends ago, but it was cancelled due to bad weather. Last weekend there was a mechanical failure, and so I wasn't able to jump.
They say the third time is the charm.
I woke up around 7:30 and promptly hit the snooze button and rolled out of bed around 8. (I don't know why I set my alarm for so early, especially on the weekend). After breakfast and a shower I left my place at 9.
I got to the Pajaritos bus station (I still have yet to figure out why a bus station would be called "little birdie"), and got a bus pretty quickly. This bus was much smaller, and the bus driver assured me he would let me off at the right stop. Just to be sure, I kept an eye on the road for most of the trip.
The bus actually stopped at the same place where we had taken the bus back last time, and so it was convenient that I knew exactly where to go.
When I arrived, there were only two people there: the receptionist and someone who was waiting to do a jump for his course. It turns out that everyone else was doing a jump, and about 10 minutes later they landed.
In the meantime I made a quick stop to the restroom and was amused by this sign: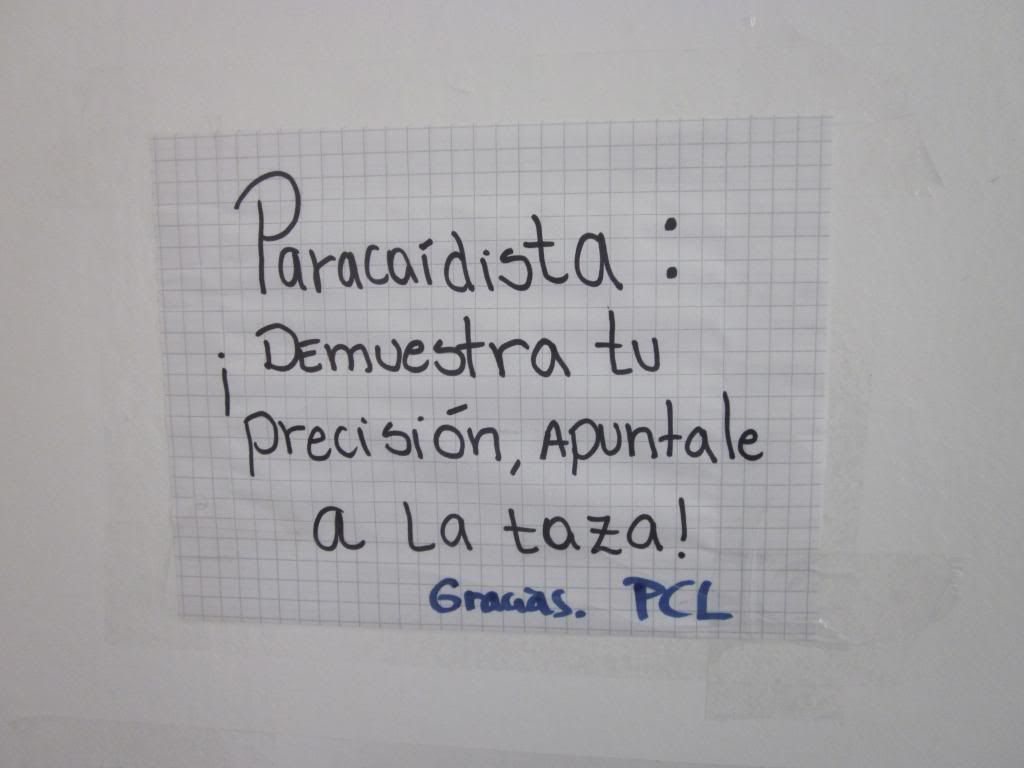 Skydiver, demonstrate your precision. Aim for the bowl!
I have to admit that I packed an extra pair of underwear with me. I didn't know what might happen, and I wanted to do whatever I could to prevent an uncomfortable bus ride back to Santiago.
Carlos reviewed the procedures with me, and he prepared the parachute while I got suited up. I wanted to wear my red Chile shirt, but Carlos warned me that it was about 2 degrees below zero in the air (about 28 degrees Fahrenheit), so he suggested keeping my jacket on too.
The pilot came over and introduced himself as Juan Carlos, and we chatted for a bit. He lives in Santiago and has an office job during the week and works as a pilot on the weekend. Carlos helped me put my harness on, and a few minutes later we walked out the plane.
The plane was much smaller than I realized. The pilot, cameraman, Carlos, and I could barely fit in it, and when I stretched out my feet it almost touched the back wall of the plane.
So I was mentally preparing myself, and then the pilot turned on the engine.
And then he tried to again. And again.
"MIERDA!" said the cameraman as he hopped out of the plane. He then tried to manually turn the propeller of the plane, and Juan Carlos then tried again. No luck.
I heard them talking about the battery, and eventually Carlos got out too. He also tried to get the propeller going, but to no avail.
About 15 minutes went by, and then Marco drove up with his car. He popped the hood, and they hooked up the cables to jump start the plane.
They tried it again, and still no motor. 5 minutes of waiting and a few more attempts, and still nothing.
By this point my nerves had calmed down with the long wait. I began to think that maybe this was in fact a sign that it wasn't meant to be. I imagined having wasted two weekends traveling out here and not getting to go and what I would do with the money if I asked for a refund.
A few minutes later, they gave it another try, and the plane roared to life. Juan Carlos cheered, and the wind whipped up around me. The cameraman and Carlos hopped in, and then we were off.
We drove around for a bit while the plane got some momentum going, and then we took off. I have to say that taking off on a plane of that size and with a window completely open directly to your side is a bit nerve racking.
We went up and up and up, and the view was amazing. It had rained pretty hard two days before this, so the sky was clear. I had a view of the Andes that took my breath away.
What seemed like about an eternity later (but was probably only 10 minutes), Carlos started preparing me for the jump. I had to turn around and face the pilot so that he could attach the harness. He got that done, and then the cameraman walked out to the wing of the plane. Now I had to put my legs in front of me and then put them out onto the pedestal.
The wind was so strong and cold, and my legs were shaking. Then I heard Carlos say the magic words:
LISTO, AR QUEO!!!!!!!!!! (Ready Arch!!!!!)
At that point he thrust us forward and out of the plane. I immediately arched my body as he instructed, sticking out my stomach and curving my legs back. I kept my chin up and hands on the harness in front of me.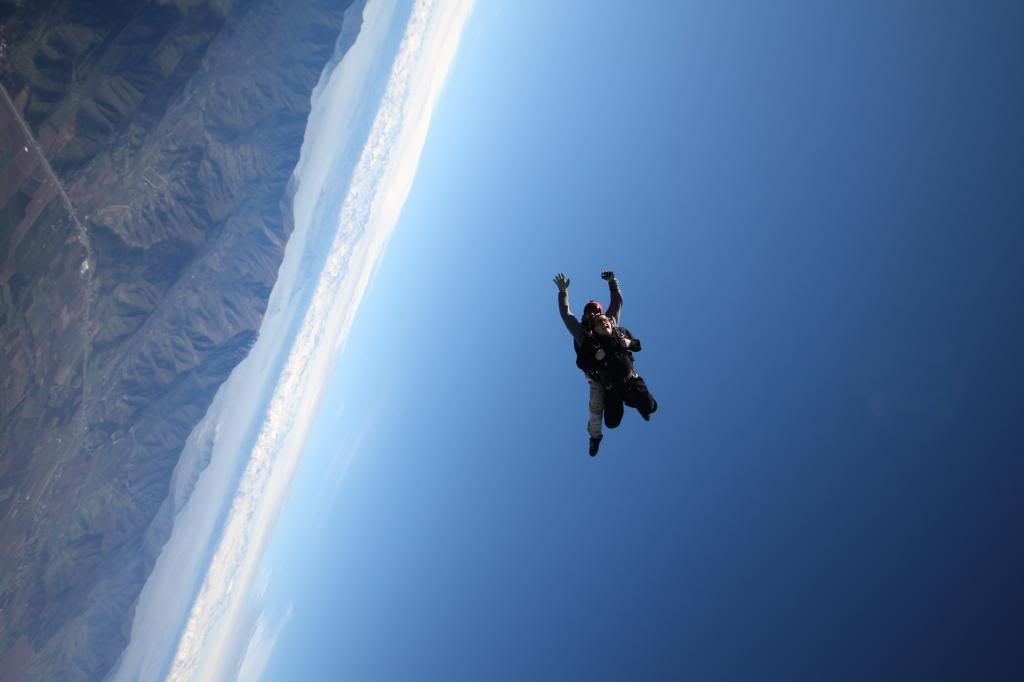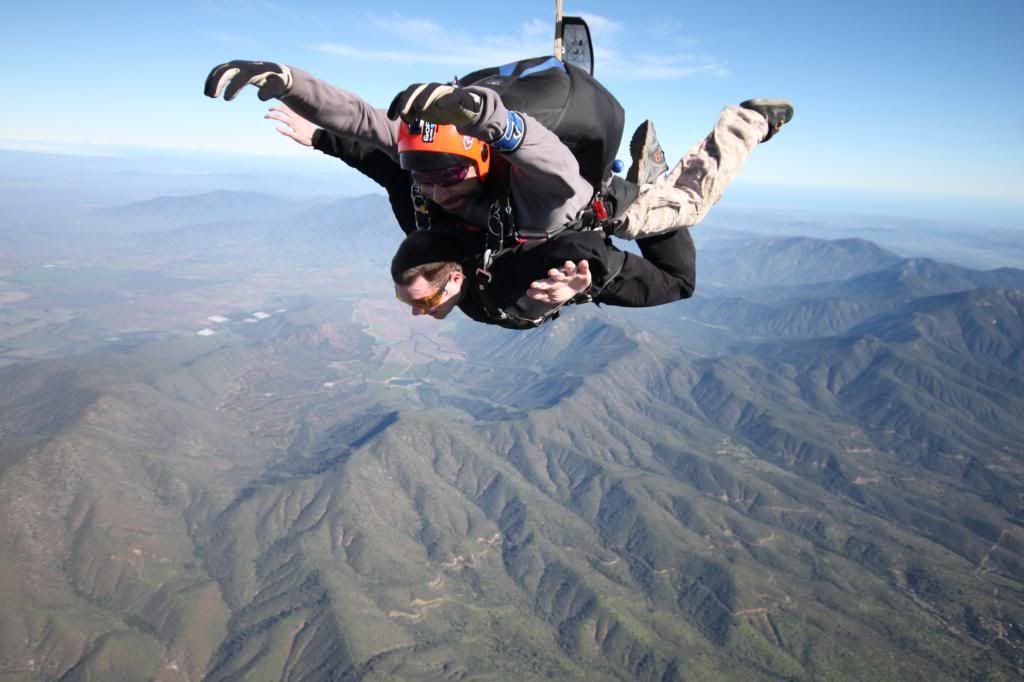 The wind was rushing past me, and I felt like a bird. About 5 seconds later Carlos tapped my shoulders, which was a signal to spread my arms out. I was looking around and trying to find the cameraman, but at the same time the wind was going into my mouth and taking my breath away. I eventually found the cameraman and gave him the thumbs up.
I think it was about 25 seconds later when Carlos deployed the parachute. We were jerked up quickly, and it caught me off guard at first.
"Lo hiciste perfecto!" (You did it perfectly!) said Carlos. He then showed me the grips for the parachute and encouraged me to take them with my hands, and he showed me how pulling down on one side or the other controlled the direction we went. It was pretty cool, kind of like driving a car.
Now I was able to admire the beauty of the landscape and Andes, I only wish I had had my camera, but the pictures will always be in my memory.
As we got closer to the ground, Carlos reminded me of the last safety procedure: raising my legs up and holding my knees so that he could put his feet down first when we land. I raised my legs up to my chest as high as I could, and I thought that we would land on our feet. But we actually landed on our behind.
The cameraman had landed before us, and so he recorded my landing.
And I could hardly believe it was all over.
The other people there asked how it was and congratulated me as I walked back into the hangar, and I got unsuited. The cameraman put the videos on the large screen TV for me to see, and then he got to work making a copy for me. While it was processing I got to chat with a guy from Chile but who lived in New York for five years. It was really interesting talking to him and hearing his thoughts about life in Chile and the States.
After getting my souvenir mug and a CD with the pictures and video, I thanked everyone and headed out. The bus ride back to Santiago was uneventful, but I would think that almost anything happening after skydiving would probably be.
Was it an amazing experience? Yes. It made me think of all the adventure sports I've done, and it reaffirmed my love for adrenaline and pushing my limits. It all started back in 1996 when I did something like a Superman jump with two high school friends; we were in a harness with our stomachs to the ground and were taken up into the air. When we were let go we flew in a large arch like Superman. After that, I went on to do a bungee type jump but in a seat being propelled into the air at the World Expo in Germany in 2000, then zip lining, rock climbing, and bungee jumping over the years.
Well, I fly back to the States for a visit Wednesday night. I think I'll wait until I'm back there before I embark on any more adventures.
PS- I have video and photos, but they are not uploading at the moment. Hopefully they will be up within a few days!
PPS- The photos are working, but no matter what I do I get an error message when trying to upload the video. :-(