I spent two weeks of February in Europe, and it was awesome.
I split the trip between the Netherlands and Ireland, and it was my first time in both countries. During that time I was able to meet up with friends in different places in each country, which made it that much better.
To give some background, I spent a year as an exchange student in Germany from 2000 to 2001. I made some lifelong friends, got to travel to a lot of European countries, and my time there was what sparked my wanderlust. In college I spent a semester in Granada, Spain and then spent the summer of 2004 in Germany, and that was an equally great experience. I also took two trips to Mexico after finishing grad school and the year after that, going off the beaten path for most of the time in Mexico City, Tepoztlan, Oaxaca, Guadalajara, and Puerto Vallarta.
I have wanted to go back to Europe for years, but huge student loans, just starting a career in teaching, and a fragile economy did not make for expensive trips far from the States. Now that my student loans are paid off and my finances are in better condition, however, I feel in a much better position to follow my passion for travel once again.
This year I've told myself that I'm going to go outside of my technological comfort zone, and so I've made a photo story of my trip. It's really cool because it scrolls through my photos, has captions and text, and even has music to go with it. I wanted to share it on here, but it turns out you can only share it on the computer your created it on or by email.
So here are the pictures and details in 4 parts:
Part 1: A Layover, An Ice Bar, and a Bike Tour
I flew with a low cost airline called WOW Air. After the add ons (paying for my seat, checking a bag, etc) my ticket came to $580 round trip from Newark to Amsterdam with a layover in Reykjavik. I left Newark at 5:35 PM and arrived in Reykjavik around 3:00 the following morning. I had an hour and a half layover, which was enough time to wander around the airport in a daze but not enough time to wait in the long lines or sit down for a proper breakfast. I settled on a yogurt and blt sandwich for breakfast before boarding my flight.
tired travel selfie
I arrived in Amsterdam safe and sound later that morning. I got checked into my hostel and after crashing for a few hours went out exploring. I didn't stray too far from where I was staying, but opted to walk around, explore, and get a sense of the things to see and do while I was there. (I arrived on a Wednesday during the early afternoon and was there until Friday afternoon.) After booking some tours I got some food and hung out at the hostel for a bit before crashing.
The next day was my birthday. I didn't want to make a big deal about it, and it was mostly a day of exploring the city on foot and then going to Amsterdam's Ice Bar. It's a bit touristy, but I felt like I couldn't pass up the chance to visit a bar completely encased in ice. I needed to make an appointment to go in, so with ticket in hand I walked in at 5:00 PM. The entrance ticket gives you 2 free shots from shot glasses made of ice as well as a drink at the traditional bar attached to the ice bar. There were different flavored types of vodka, and I opted for whipped cream flavor for mine. After taking some photos and taking advantage of a free drink at the regular bar I headed out.
That night I saw one of the guys that was in my room the night before, and we got to talking. I told him it was my birthday, and we went down to the hostel's bar and talked about life over drinks for about 3 hours. It wasn't a typical birthday, but I enjoyed it.
Friday was a bike tour of Amsterdam. The weather was unseasonably warm, and at about 50 degrees I got away with wearing a sweatshirt and sweatpants. I never really learned much about Dutch history (besides the standard things you learn about when they settled in the States), so hearing how they were business people and learning about the history of Amsterdam and how the canals affected the city over the years was really interesting. On part of the tour we stopped at what's supposed to be the oldest bar in the city which is still run by the same family that started it.
After the tour I hopped on the train and was on to the next leg of my adventure: Eindhoven!
obligatory train selfie
Part 2: Magic, Videogames, and Catching Up
What was waiting for me in Eindhoven you may ask? That would be one of my close friends, Rudolf! (No, he doesn't have a red nose, and he's not a reindeer! Admit that you were thinking that right when you read that name!)
We became friends in Chile, but he has since moved back to the Netherlands. The weekend included playing Magic: The Gathering, Wii U, eating New York Pizza as a pitiful substitute for Papa John's Pizza, walking around the town, and seeing the Phillips Museum.
Rudolf and I are both gamers, and it felt great to reconnect with our hobby. A new set of Magic had come out, so it was cool trying out the new cards together. Rudolf took me to a hipsterish indoor market that had things for sale as well as places to eat. I had currywurst for the first time in 13 years and tried a Dutch food called Stampotten, which is a combination of potatoes and vegetables that are mashed together. We also went into the shopping area of Eindhoven, and we visited the Phillips Museum. Rudolf works for Phillips, so he was very proud to show me all the technological innovations that have occurred since the company was founded. Now they're really working to develop medical equipment for MRIs and such.
I think the best part, however, was the homemade chocolate croissants he made for breakfast one morning.
Even though it was just one weekend, it felt so great to spend time together and to get to visit a close friend in his home country.
Part 3: Dublin, Touristy Stuff, and More Social Encounters
After saying goodbye to the Netherlands for a bit, I made my way to Ireland.
I arrived in Dublin, and I had time to get my bearings during the day. It's a nice city because you can get around to most places on foot. I really liked how friendly people were and how easy it was to get around. Unfortunately higher prices come with that, so I tried to be a bit frugal when possible.
In the evening I met up with Martin, and we caught up on what has happened since he left Chile a few years ago. It was great seeing him and hearing him talk about the history of the country. Prior to then, I had no idea how big of a history buff he is.
The following day I took a walking tour for a bit and then headed out to Limerick, which is close to the west coast of Ireland. I stayed with Heather and Terry who are living there. We became friends when working at the same institute in Santiago back in 2011 or so, and we've stayed in contact since then. I enjoyed catching up, getting to know their 3 cats, and playing board games together.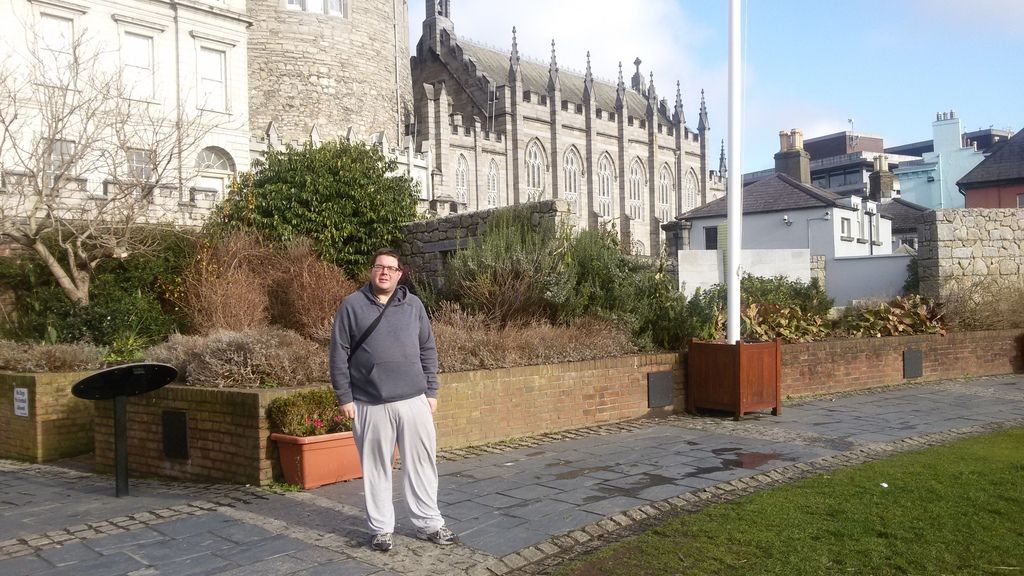 I booked a tour to the Cliffs of Moher for one of the days I was there, and it was amazing. They're out on the west coast of Ireland, and the beauty of the water crashing against the cliffs is breathtaking. The tour gave us 2 hours to walk along the coast. Heather had warned me about the wind, and it was really strong and biting. I wore my long johns and had a hat and scarf, but even with that I only stayed outside for about 40 minutes of that time. There was a small museum, gift shop, and cafe inside, so there was still plenty to do.
After being in Limerick for a few days, I made my way back to Dublin. There I caught up with Amanda, another friend and former coworker that I met in Santiago as well as some former students that are studying in Dublin. I'm not much of a drinker and didn't think I'd like the pub scene in Dublin, but it was actually really nice. Maintaining social connections is such an important part of staying happy, and seeing that happening with the pubs in Dublin was a very positive part of the culture there.
In addition to catching up, I visited Trinity University and had breakfast at The Buttery (their on campus eatery with great food and very reasonable prices) and took a tour to Powerscourt Gardens and one of the national parks. Being out in nature was really nice, and the amount of green there was never-ending.
Part 4: Windmills, Clogs, Cheese, and More
My flight from Dublin to Amsterdam was delayed, and I consequently arrived at about 5 PM instead of 3 PM. By the time I got check into my hostel the day was shot. It had snowed earlier in the day, and so I got a taste of what winter is more typically like in Amsterdam. I got something to eat but was too tired to do much else except book a tour for the following day.
I was up bright and early the following morning to take a tour of the countryside. We started out by visiting some windmills along the coast. It was really picturesque, and going inside a windmill was really cool too. I don't remember learning much about how windmills work or how important they were to world economies throughout history when I was in school, but it was so interesting to see how they used them to cut wood, pulverize flour, and do other things. It never crossed my mind that windmills could be rotated 360 degrees and that the flaps could be attached or detached as needed based on the wind.
The next part of the tour took us to a shop that makes and sells clogs. A woman in typical dress showed us the process of how they are made, and afterwards we had time to kill in the shop and were encouraged to buy souvenirs. After that, we took a ferry that then took us to a cheese factory. They showed us how round wheels of cheese are made, and we got to taste some of them. It was interesting to see the different types and ages of the cheeses.
After a lunch break, we then went to a famous bakery that makes stroopwaffles. A woman gave a demonstration and showed how the two cookies are made and attached with caramel in the middle. Apparently there was a married couple with 9 children that lived in the 1800s. The husband was a fisher, but he died in an accident one day. The widow was left with 9 children to take care of. She tried baking bread to sell, but there were plenty of bakeries that already did that in the area. She then began experimenting with cookies, and she invented the stroopwaffle. The demonstration occurred in her basement, and they had the original tools that she used on display. The main floor is now the store/bakery, and it was interesting to see how a woman's entrepreneurial spirit and desire to care for her children had such an impact on Dutch history.
After getting back to Amsterdam, I then hopped on the train to meet up with a friend in Utrecht. Ty and I met when we were exchange students in Germany in 2000, and since then we've managed to maintain our friendship despite the distance between us. I believe we've only met up 3 times since then, with the last time being in 2009 in Venice Beach. His life in Europe and mine in Chile have made catching up in person difficult, but not impossible.
It was great talking about life and catching up, and living outside of the United States we have both encountered a lot of the same challenges despite the differences between Europe and South America.
By the time I got to my last day in Amsterdam, I was pretty tired of being a tourist. I dragged myself out to go to the Rijksmuseum, a huge museum that documents a lot of famous Dutch art and history. The sheer amount of things there was overwhelming (think the L'ouvre in Paris), and after about an hour and a half I was already overloaded with beautiful art, facts, and historical objects.
I do have one huge regret with this trip. I put off finding information about going to the Anne Frank House. I naively thought I would be able to just show up and get in, but it turns out that it's recommended to get tickets online a few weeks in advance. You can only get in from 9 to 3:30 with an online reservation, and then after that you have to wait in line. By the time I had gotten there, I would have needed to wait in line for a few hours. While that is nothing compared to the atrocities that happened during the Holocaust, I was a worn out traveler that doesn't tolerate cold weather much more than he has to. I've resolved that it will be at the top of my to do list for my next trip back.
The trip ended up being more expensive than I was anticipating, and it touched on my anxiety about spending money and getting into debt. I then have to remind myself that sometimes travel is going to be a bit expensive once you add in transportation and eating out, but ultimately I'd rather have a passport full of stamps and a life full of memories rather than a house full of stuff.
I'm returning to Chile feeling renewed (in Chile they would say con las pilas cargadas, with your batteries recharged) and grateful for the time I had in Europe and back in New Jersey.
I hope everyone else has a great start to the year back in Chile or a wonderful start to
spring/fall wherever in the world you're reading this from.