I'm sitting at my favorite coffee shop in Santiago, Condi. It's the day before Easter Sunday, and I'm getting over a cold that started mid week.
When I get sick, it's often a sign to me that something isn't working in my life. In this case, I haven't been good about managing my time and keeping up with all my professional responsibilities. I hold myself to a high standard, and when I fall short and fall into a cycle of self criticism, not taking action, and then the cycle repeating.
Taking a day off helped me to pause and evaluate how the year is going so far. I'm grateful for the wonderful students I have in Santiago. I'm developing new material for classes and am keeping them fresh while helping students stay engaged with English both in and outside the classroom. I have wonderful friends here and have made social plans and met up with them on a fairly regular basis. (Maintaining my social connections and meeting up with friends on a regular basis is one of my goals for this year.)
Despite that, my people-pleasing tendencies and fear of change are holding me back. It's not always easy for me to turn down potential students and projects and put limits on my time, and it's easy to fall into familiar patterns of escaping from the world through watching excessive television and eating unhealthy rather than engaging in meaningful activities that will help me grow both personally and professionally. The idea of expanding my independent teaching into a business seems very daunting and overwhelming when I consider the amount of work that would go into it, but it's something I want to do.
Looking at the bright side of things, social gatherings in the past few months have been a wonderful source of joy. A friend had left Santiago but then decided to move back, and some friends and I organized a surprise party. It had been his birthday a few weeks before then, so it worked out to be a nice way to bring a group of friends together to start out the year.
There have also been a few birthday parties. One friend celebrated at a brewery in Talagante. They had a variety of handcrafted beers, wine, soft drinks, and pizza. The outdoor space was lovely, and the weather was perfect. The following day another friend celebrated her birthday by playing laser tag. I hadn't played it in over 10 years, and it was a lot of fun. Both of my friends have such interesting social circles with people from all over the world, and I really enjoyed talking with people and the social connection.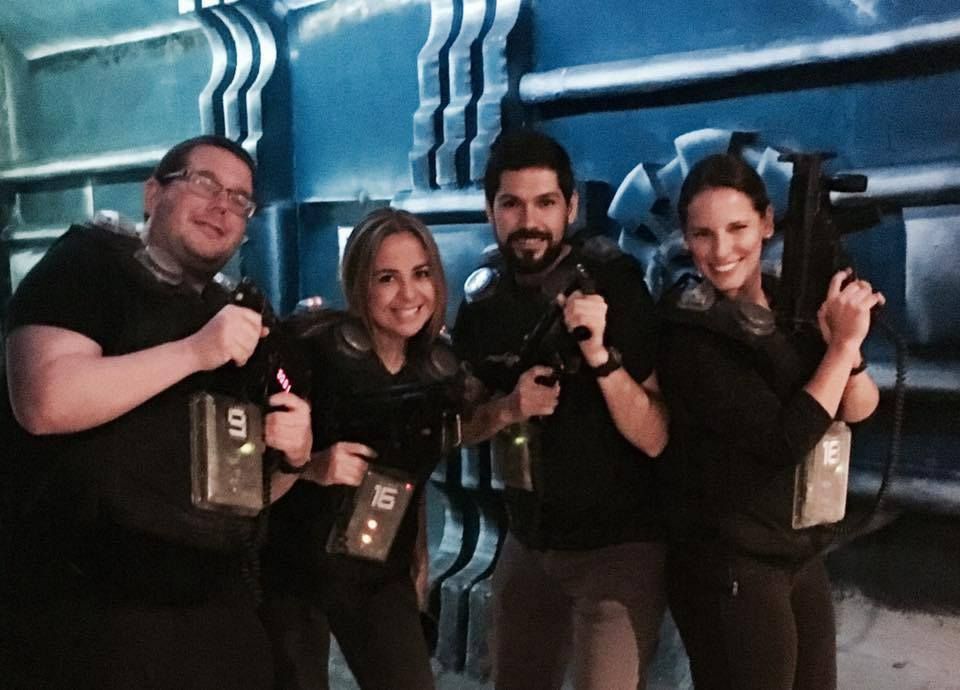 My laser tag team. We ended up winning!
Last but not least, I've started having a weekly lunch date with a friend. We go to a different picada (a small family-owned restaurant) in downtown each week and catch up about how our classes are going. It is a great way of being sure we keep in touch, and it's so nice having someone to talk to on a regular basis about our professional lives.
There are always the meetings with friends to play Settlers of Catan too. There's friendly competition in the group with banter that goes back and forth, and it's always an enjoyable time.
This weekend is a time for me to start taking some steps outside my comfort zone and continue growing. The first step I've taken is purchasing a courses that interest me from The Great Courses: The Secret Life of Words: English Words and Their Origins. I've always found etymology interesting, and it will be something that will enhance my the knowledge that I bring to my teaching. Other steps will take time, but I know to be patient with myself and to go at my own pace.