Back in June or July LAN had a promotion on airfare around South America, and I decided to take advantage of it. For about $250 I got a round trip ticket to and from Lima!
During the academic year I work very hard and long hours, and so I like to reward myself with a trip somewhere. Last year it was Puerto Varas and Bariloche, and I decided this year it would be Lima.
I traveled to Peru back in July 2010, but I didn´t make it to the capital city. I was excited, as I´ve heard that Lima is considered the gastronomical capital of South America. I didn´t want to be limited to just Lima, so I also decided to travel to Nazca, along the southern coast. They have the crop lines you can see from a plane ride above.
Tuesday and Wednesday I was busy finishing up classes and also met up with friends to start to say my goodbyes for the year, and I only finalized some of my travel plans on Thursday morning.
What else happened Thursday morning? I got a text message from LAN that my flight was leaving an hour earlier than scheduled. I scrambled to email the hostel in Lima, as I had booked a service with them to pick me up at the airport. It was 9 in the morning and my flight was at 3 in the afternoon now, but given the time to go through security I would now have to leave at 12 instead of 1. As I did my last minute packing and cleaning I noticed I didn´t get a response from my email, so I gave the hostel a call. They assured me that the driver would be there to pick me up with the earlier flight time.
I hopped a bus then the shuttle and got to the airport a little after 1, and I was through security and waiting for my flight by 2:20. The flight was uneventful albeit longer than I expected (4 hours). One nice touch with LAN is the individual screens to watch movies and TV shows and listen to music. I watched a few episodes of The Big Bang Theory to pass the time.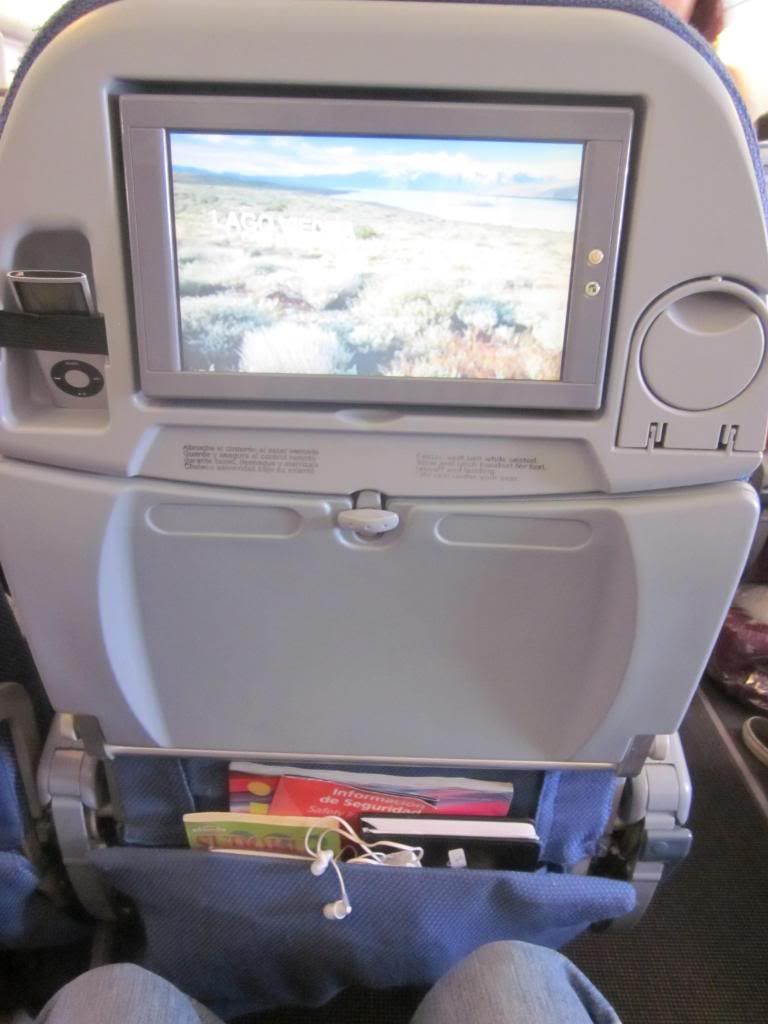 This is one of the reasons I love flying with LAN.
I only brought my bookbag and a small bag for the 6 day trip, so I didn´t have to wait for any luggage. I was through migration in about 5 minutes, and when I got through I started looking for my driver (his name is Luis and he was supposed to have a sign with my name on it) in the crowd of drivers and people wanting me to go by taxi with them. I scanned once and didn´t see my name or anything with the hostel name. I gave it another try and still no one.
I went to information and explained the situation and asked if I could make a call. The woman told me I´d have to change money, and I told her I already had Peruvian soles. My only problem was that I only had bills an no coins for the public phone. A woman heard my problem and I offered to change my 20 sol bill (about 6 dollars or so I think) for change, but she gave me 2 fifty cent coins and said not to worry about it.
So off to the pay phone I went. Luckily I had written down the phone number of the hostel, and I gave them a call. The woman who answered enthusiastically informed me that my flight was only programmed to arrive an hour later, and then I told her about the email I had sent and phone call I had made earlier in the day. She put me on hold, and when she came back she asked me where I was standing. I told her where I was, and a few seconds later Luis came up to me. It turns out he was there the entire time, but he thought it would take longer for me to get through migration and getting my luggage.
I was really relieved, and we made our way to the car. We put my bags in the trunk, and we had a good time talking as we made our way back to the hostel. It was rush hour, so it took us close to an hour. He told me about the new highway they´re constructing to connect the southern parts of Lima to the airport, and we chatted about our musical tastes and a son of his that is living in Santiago.
Once I arrived and got settled in, I had worked up an appetite. I´m staying in the Miraflores area, and the receptionist at the hostel showed me a main street with restaurants for dinner. I walked down the main street, and it was also undergoing major construction.
Even though it was almost 8 at night and dark, there were a lot of people out. I walked through Parque Kennedy, and there were lots of families playing with their kids. After about a fifteen minute walk, I settled on a restaurant called Mezze.
Mezze is a Peruvian and Arabian fusion restaurant, and it was beautiful inside with cushioned seats along one wall and beautiful decorations. I settled on some chicken soup and lomo saltado with some chocolate cake and tea for dessert.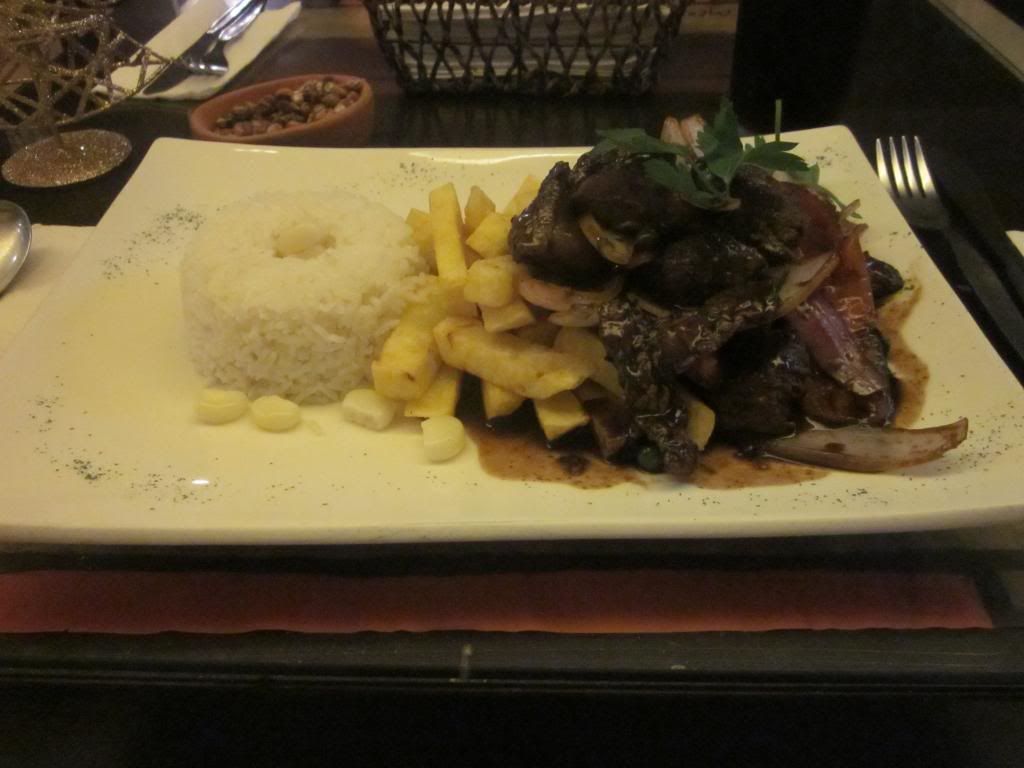 I made my way back to the hostel and decided to do research for my next few days. I only have 2 full days in Lima and 2 full days in Nazca, so I want to make the most of them. Today hopefully I´ll be going on a bike tour, paragliding, and also taking a workshop on how to make chocolate.
It should be a fun time. Happy Friday everyone!