Last weekend I was invited to a friend's wedding here in Santiago, and it was a beautiful event.
Chris came down to Chile at the same time as me, and we became friends. Eventually he met Grace, a Chilean doctor through a mutual friend. They hit it off, and now 3 years later they got married.
In case you don't remember, Chris and Grace were the people who came to my rescue on my birthday 2 years ago when I went to the emergency room after injuring my ankle on my birthday. They are wonderful and caring people, and I was really excited to be there for their wedding.
A bunch of us got together and rented a van, and it worked out really nicely. It picked us up at a friend's apartment and took us to the church. After that, it took us to the reception and took us home in the evening.
The wedding was up in Lo Barnachea, and the view from outside was amazing. The church was beautiful, and everyone looked great. At one point Erin asked me if the priest looked familiar, and I realized he used to be the priest at the colegio we started at way back in 2010.
After the ceremony we made our way to the reception. The view there was equally amazing, and after a cocktail hour we made our way inside. The food was delicious, and after some speeches it was time to dance.
I normally am not much of a dancer, and due to a teaching workshop that same morning and then going right to lunch with some friends and then running home to change for the wedding I was already pretty tired, but I managed to bust some moves.
We got the van ride back to Santiago at 2 in the morning, and I was home around 3:30. This was my second Chilean wedding, and I felt honored to have been there.
With classes slowing down I have had more free time than normal, and a video game bar opened less than a block from my apartment. It actually opened about 2 months ago, but last week was my first time getting to check it out.
The facade is a colorful tribute to video games, with characters like Mario, Ken, Kirby, and others greeting you as you walk in. They have 2 floors, and each floor has tables for eating and drinking as well as small sofas and chairs with video game consoles. They have Super Nintendo, Nintendo 64, Wii, and Playstation games. I heard it gets really busy on the weekends, so I checked it out on a Wednesday night.
It was pretty cool. The menu has a lot of drink and food options, and they have even made thematic drinks and food. (Would you like a Life Potion or Magic Potion with your Chocobo Wings?) For those of you that aren't familiar with these terms, in The Legend of Zelda there was a life potion that was red and a magic potion that was blue. They serve you the drinks in a rounded glass which looks exactly like that from the video game. The Chocobo is a bird from the Final Fantasy Series, and it is their other name for chicken wings.
I decided to play some Mario Kart 64 and have a Donkey Kong Barrel Blast to drink. Here's what it looked like: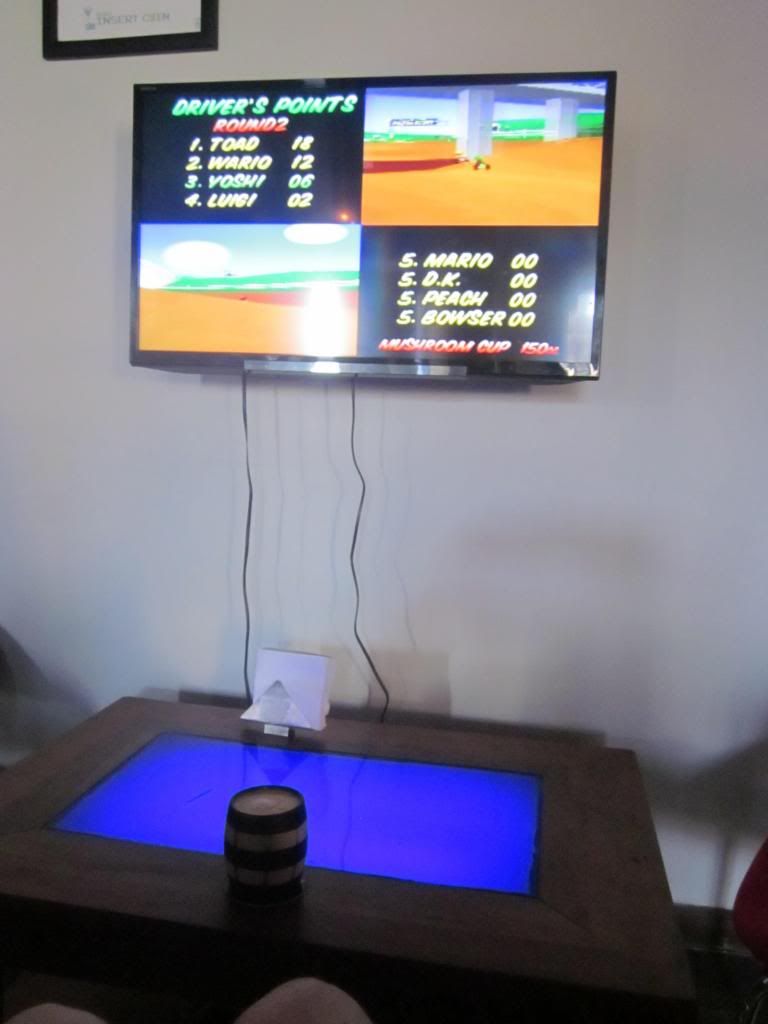 They had a Mario Kart 64 tournament last night, and I decided to give it a try. Even after practicing last week and an hour before the tournament, luck was not on my side. I was hit by some red shells right before a jump, and I lost all my momentum and had to do half of a track over again. The people that played (there were 32 of us in all) were actually really great players, and even though I was out in the first round it was a cool event.
Last but not least, last week was Thanksgiving. The weather was warm, and I cancelled my evening classes to be able to go to Thanksgiving dinner. This year I decided to get dinner at California Cantina. They had a set menu for $15.000 pesos, so I made a reservation. I arrived early, and in the end about 30 people showed up for the dinner. Most people came in groups and knew each other, but at my table there was an Ecuadorian woman who had lived in the States for 9 years. It was interesting talking with her about our Thanksgiving experiences back in the States as well as our experiences living abroad.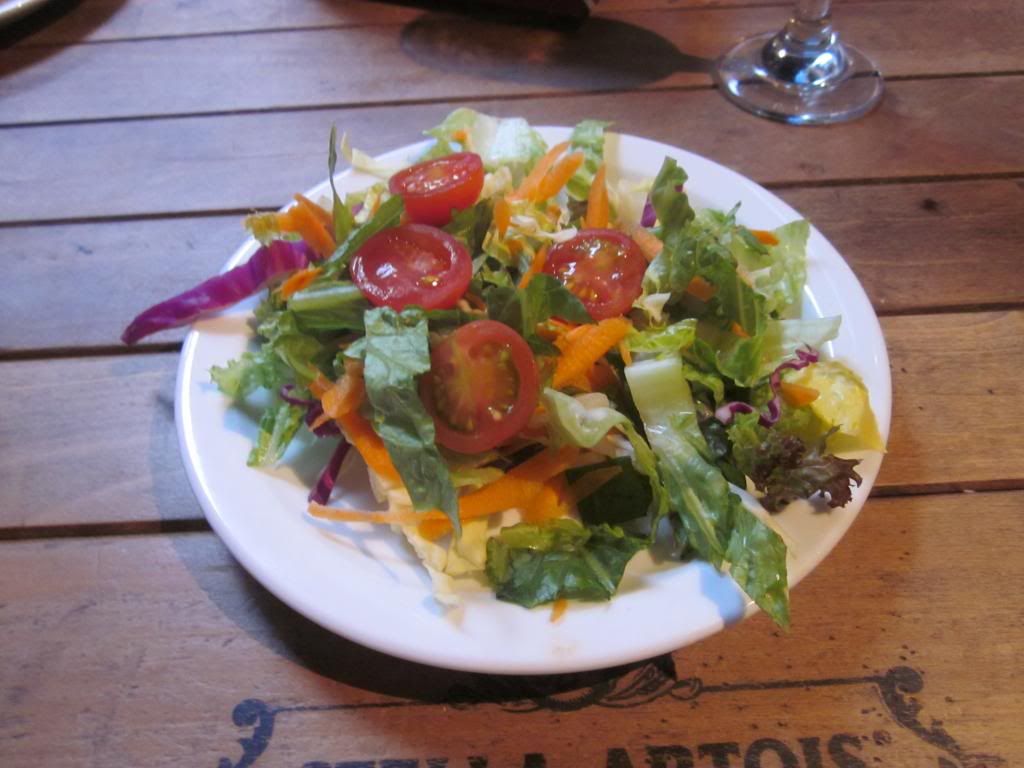 A house salad to start. I wish it hadn't taken over ten
minutes to get some pepper!
Turkey,stuffing, mashed potatoes, and sweet potatoes


No Thanksgiving would be complete without pumpkin pie!
In the belated spirit of Thanksgiving, I really have a lot to be thankful for. My life isn´t perfect, but I´ve learned to focus on the positive and express gratitude. I don´t limit it to just one day a year, but every day I recognize the people and things in my life that I´m thankful for.
Thank you to all of my readers for your support and encouraging comments (whether they be on this blog or when we talk on the phone or via email), and I hope you had a wonderful Thanksgiving holiday and weekend!