At the end of August I took a trip up to Iquique in northern Chile to attend the TESOL Chile conference. Last year it was in Santiago, but every other year they have it in the north or south to share the traveling amongst everyone.
I arrived on Thursday afternoon, and after being taken all over Iquique with a shuttle service I arrived at my hotel after about an hour and a half. I was hungry and went out to get some lunch. It was too late for me to attend the workshop, so I walked around and explored and then turned in early.
A churrasco sandwich with fries on the side
On Friday I was able to get a colectivo to the Universidad Arturo Prat. While I was waiting in line to register I socialized with some other participants, and a few minutes later one of my friends arrived. We got registered and listened to the plenary session as well as a rousing dance routine.
a modest but filling breakfast
In the middle of the dancing routine I realized something important. My hotel had a sign inside each room about securing all our valuables and that they weren´t responsible for anything lost inside the rooms. So being diligent I locked my bookbag with the luggage lock I usually use when I carry around my laptop or tablet in Santiago. There was only one problem this time.
I didn´t keep my keys in my pocket like I usually do in Santiago. I decided to keep them inside the very bookbag that I locked securely with the luggage lock.
I shared my debacle with my friend, and her eyes went wide and she laughed at my stupidity. I would have done the same in her position.
Luckily I took some time to think it through, and there was a 2 hour lunch break that allowed me to get back to the hotel to figure it out.
Luckily I had put my keys in an inside pocket with a thin layer between the inside and outside pocket, so I was able to borrow some scissors and cut a hole through the pockets and pull out my keys without having to call a locksmith.
After a nice lunch at a Peruvian/Japanese fusion restaurant, I was back to the conference.
It was really interesting meeting other teachers from all over, and there were some great workshops. It was a great reminder of all the great teaching strategies out there to incorporate to classes.
Saturday morning I woke up to a bit of a surprise: no electricity in the hotel. Let's just say it made showering and shaving in the dark a bit more interesting than normal, but luckily I managed to do both without too much difficulty. (Or at least no one commented on my shaving job). I attended more workshops, had lunch with friends,and presented a workshop of my own. There was a good turnout and I think I did pretty well fitting the material in to an hour and a half block, but it´s always a challenge to keep everyone engaged and feel like you´re meeting everyone´s needs. I felt very fortunate to have a few friends that attended my workshop as a sign of support.
aji de gallina lasagna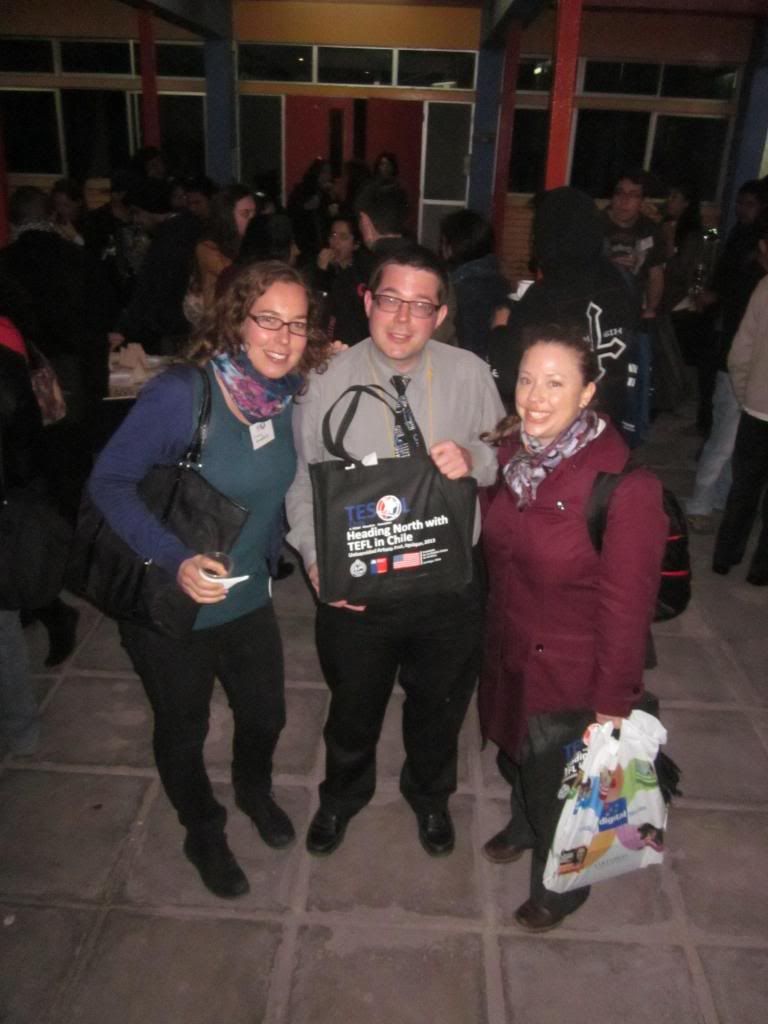 English teacher friends!
A nice event at the end of the conference was a raffle. Everyone who turned in their survey of the conference got a ticket, and then numbers were called and prizes were awarded. I lucked out and won a very nice book with photos from the northern regions of Chile. It´s a nice coffee table book and one that I can use the photographs for in classes.
The conference was over on Saturday evening, but my flight back to Santiago was only at 7:00 on Sunday night. Before arriving I had made contact with a company to go paragliding. I made plans to go on Sunday, and they picked me up around 11 that morning.
After picking up someone else, we made our way up to the cliffs. There were about 20 people there suiting up and with parachutes, and it seemed like everyone knew each other. I didn´t feel too scared until I started to get suited up and was told I would have to run towards the cliff and jump off with the instructor.
The view and experience was amazing. I don´t know what it is, but the feeling of flying is just so indescribable for me. I love the peacefulness of being in the air and seeing everything around me and below me. I had a Gopro camera with me, and so here are some of the pictures I took.
The flight was about 20 minutes altogether, and I landed on the beach.
After that, I grabbed some lunch and people watched along the beach until my transfer to the airport came. The shuttle got me to the airport about an hour before my flight was scheduled to leave. This is much closer than I ever like to cut it for any flight, but luckily I was able to do self check in since I didn´t have any bags. The airport was small, so I got through security without a problem.
The flight was uneventful, and I arrived in Santiago around 10 that night. I was tempted by a Cinnabon on my way out of the airport, but after having had cookies on the flight I decided I didn´t need any more junk food today. I would normally take a bus to downtown and then another bus home, but given the time of night I decided to go with a transfer.
I bought my ticket, and it turns out that they were grouping everyone by neighborhood before leaving since it was so late at night. I was a bit annoyed and really wanted to get home since it was almost 10:30 at this point. As I wondered how long I would have to wait, one of my current students walked up to me!
It was a complete surprise, and it turns out he doesn´t live too far from me. We spent about 20 minutes talking until the van was ready to leave, and then we got to talk for the hour long trip back to my place. It was really nice talking with him, and it helped the time go by more quickly.
Fast forwarding to today, it´s September 11th.
As a US citizen I obviously think of the terrorist attacks back home. September 11th also has a deep meaning here in Chile, but for a different reason. On September 11th, 1973 there was a miltary coup that took over the government and burned down the presidential palace. This was the beginning of a dictatorship that lasted for years and that was accompanied with the disappearance and torturing of people. I have to admit that I don´t know a lot of the details behind it, but it certainly appears to be a dark and controversial event in Chile´s history.
People warned me to be careful on the night of the 10th and all day the 11th due to protests regarding the 40th anniversary, and I heeded their call. On Tuesday night I was sure to get home early to avoid any difficulties, (if things get bad they will actually stop all public transportation in the evenings) and two of my three classes were cancelled on the 11th. Besides a trip to the grocery store, I stayed in, did work for classes, and caught up on housework. I would prefer to work and make money by teaching classes, but I don´t want to compromise my safety by doing so.
On a positive note, it appears that winter is over and the 18 holiday week is almost here! Most people have the entire week off, and so it´s a week of celebration, Chilean flags, barbeques, dancing cueca, and lifted spirits after having survived another winter. This year I will be staying in Santiago and am looking forward to exploring the fondas (similar to fairs or carnivals) with friends.
I hope everyone back in the States is having a nice fall and a good start to the school year!