It has been about 3 weeks since my last update. I normally don't like to allow so much time between updates, but my weekends have been filled with a mix of social activities, working, and general feelings of not wanting to do anything that isn't necessary.
September 18th (dieciocho) is Chile's Independence Day, and the celebration tends to last an entire week. This year was no different. With the exception of a private class I had the entire week off. So what did I do with that time?
Well, Monday September 16th was the grand opening of Denny's in Chile.
This was something really exciting for me. Having something familiar coming to Chile is a nice comfort and is a bit of a bonus to living here.
I went there with 2 friends around 1 in the afternoon. The menu was the same as in the States, with the names of the dishes in English but descriptions in Spanish. It was about 3/4 full, and so I thought that we would have relatively fast service.
(Cue the laugh track here)
Our order was rather simple: a hamburger, a build your own breakfast slam, and a breakfast plate with a Beglian waffle. My friends and I chatted and caught up while we were waiting, but after about 50 minutes we started getting a bit impatient. After asking a few times about our food, their food came out in an hour and 20 minutes, and mine five minutes after that.
We ended up being served by three different people during the entire time, and the last waitress told me that she'd give us something to make up for the slow service. She promptly returned and plunked a plate of nachos on the table and walked away before I could say anything.
I normally am not that picky, but it didn't really make any sense to me since two of us were eating breakfast and the other one of us already had fries with his burger. In the end I told the waiter who gave us the check, and he offered me a breakfast sandwich to go instead of the chips. I thought it was a much better solution and accepted.
I walked away pretty frustrated, and bad customer service is one thing that really gets to me. I should really deal with it better since customer service isn't one of Chile's strong suits, but one of my friends pointed out that it was the first day and it was probably difficult for the waiters (who probably don't speak much English) with all of the plates being in English. They also aren't accustomed to giving people refills on drinks and checking in on them throughout the meal. I also felt better since it wasn't just our table that got slow service; some people ended up ordering their food to go when it was taking so long, and one poor girl ended up waiting about half an hour longer than her friends for her food to go.
I decided to go back last Wednesday in the mid morning, and the service was much better. I think they needed some time to acclimate, and I think that I will be going there from time to time for breakfast. And yes, the food is exactly like it is back home: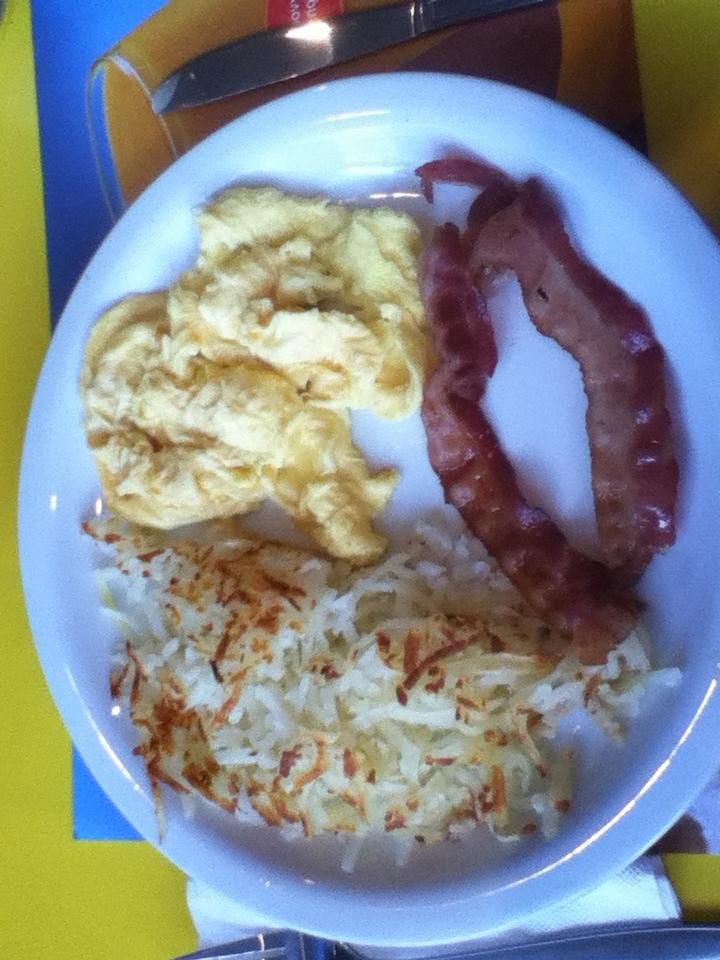 So what else did I do during the dieciocho week?
Not too much productive. I knew that the grocery stores were going to be closed on the 18th and 19th, so I stocked up on food before then. On Tuesday night the 17th I went to a fonda at the Estadio Nacional. It was like a huge fair and had games, food, and music all around. I played some of the games and enjoyed some kettle corn and salchipapas (French fries with sausage), but after walking around for about an hour and a half it got boring rather quickly.
Pretty much everyone I knew was out of town, so I didn't end up doing anything to celebrate on the 18th or 19th. I also wasn't in the mood to go out and explore on my own, so I stayed in and watched movies, cooked, and continued on my neverending quest to organize all my teaching materials.
I would be lying if I said I wasn't a bit disappointed with my dieciocho this year. My first year here was the bicentennial, and the feeling of celebration and having a friend visiting me on top of it being my first year here made it an unforgettable experience. The past two years I decided to take advantage of the time off and traveled to San Pedro de Atacama in 2011 and Puerto Varas and Chiloe last year, but I decided I wanted to stay put this year. After having had such a great time the past years, I'm realizing that experiences won't always live up to our expectations.
On a happier note, the weather is warming up here. It's still a bit chilly in the morning, and most days it is still in the 40s when I leave the house. During the day, however, it gets up to about 70 or 75. I consider this nice weather for English teaching. Why do I say that?
Well, with the cool weather in the morning I can wear a jacket or blazer. During the day it warms up, and I can enjoy a nice walk in the sun between classes, but it's not warm enough that I sweat. In the evening it is cool again, but not cold enough that I need to wear multiple layers like in the winter. The weather usually is like this in October and November and then again in April and May, so I'm going to really enjoy these next few months.
I also had a nice afternoon out with a friend. Her and I met about a year and a half ago, but with completely different work schedules we fell out of touch Now we both have classes at the same place, and I had about three hours to kill before my next class. When I saw her I asked if she wanted to do something, and she also had the afternoon free. We went to Mall Parque Arauco, got some lunch, and checked out the department stores. (She's looking to buy some new furniture and a bed). I normally don't get to do things like that during the week with my schedule, so it was a nice afternoon.
Last weekend I had a pleasant surprise on TV: The Amazing Race started its new season, and their first destination was Chile!
Not only that, but they went to Iquique. If you didn't read my last blog post, Iquique was where I went for the TESOL Chile Conference and where I went paragliding. And guess what they had to do for one of the challenges on the show?
Yes, they went paragliding! It was so cool recognizing the airport, the parts of the city, and the area where they jumped from in order to complete the challenge. One of my friends here is also a huge fan of the show, and we talked about where they are going for the next part of the show. The preview showed them going to a salt mine (or something related to salt), so we were both thinking that they went to San Pedro de Atacama, but now upon thinking of it a bit more I think they might go to the salt flats in Bolivia I'll have to watch and see if we are right!
I'm glad to have made it through another Chilean winter. My classes are keeping me busy, and I'm enjoying the changing of the seasons. In about 6 weeks I'll be on a plane back to the gringo winter for Christmas, so I'll be making the most of the spring weather here before then.
Thanks for reading and I hope everyone is having a great spring in the Southern Hemisphere and fall up north!