I´m looking at my calendar and can´t believe that it is almost the end of August.
I´ve been really busy with classes, and I decided I deserved to take a break. Thursday August 15th was a holiday here and all my classes for the following day cancelled, so I took the opportunity to go to Viña del Mar for Friday and Saturday.
I got my bus ticket a few days in advance and booked a room at the bed and breakfast I stayed at before. The bus was pretty full on the way there and we hit traffic on the way there, so the usual 1.5 hour trip was almost 2.5 hours.
As I began to walk to the main plaza to get a colectivo to the bed and breakfast, I grabbed some lunch. I hadn´t had a schwarma in a while and this place looked promising, so I gave it a try. It was good, and the outside seating was nice with the sunny warm weather.
OK, now to walk to the main plaza for that colectivo. As I walked down the way I remembered, I was met with all types of wooden walls set up due to construction. They basically created a labyrinth that I spent 30 minutes walking through. When I arrived to where the colectivos were supposed to be, there weren´t any due to the wooden walls. So I decided to walk to the bed and breakfast.
About 40 minutes later I arrived. I dropped off my bags and decided to go out for a walk given the beautiful weather. I walked along the beach, listened to the street musicians and water crashing against the coast, wrote in my journal, and then tried my luck at the casino. $18.000 pesos (about $36) later I decided on an early dinner at Ruby Tuesday´s.
I normally don´t like going to American restaurants here (OK, I do order Papa Johns from time to time), but I was in the mood for some free refills and something familiar. I got a nice dish of chicken with mashed potatoes and broccoli and a chocolate dessert.
I was back at the bed and breakfast by 8 or so, and I spent a few hours getting work done for classes. I love their upstairs area and always give me a thermos with hot water to make tea, so it´s a nice way to get work done.
I was up early the following morning, and I got some work done before and after breakfast. This breakfast was set for me and a woman from Mexico staying at the same place: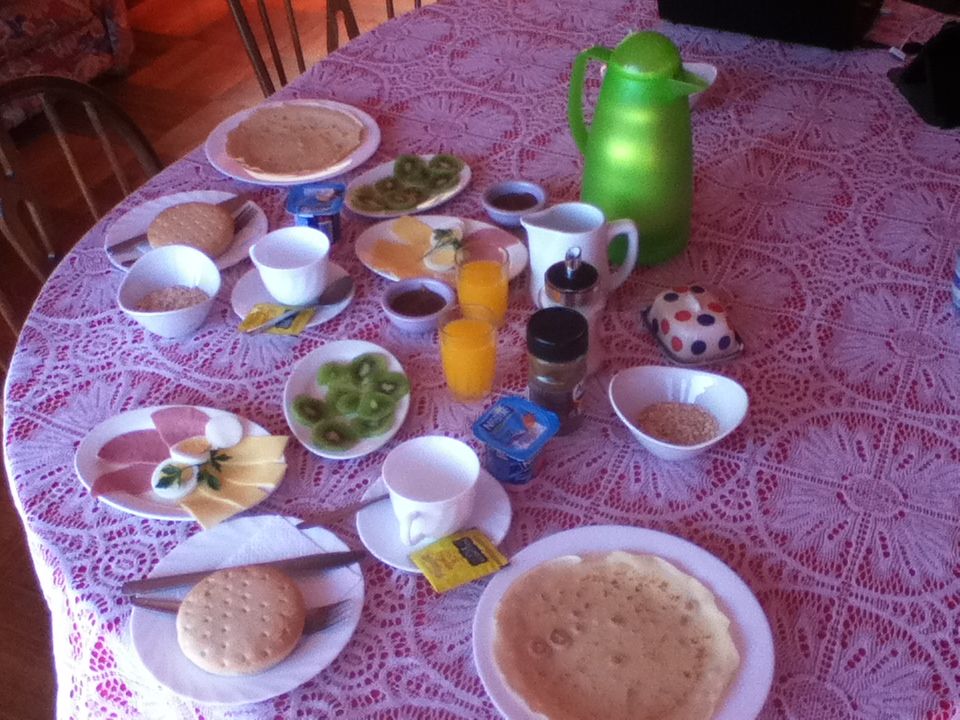 Crepes with jam, fresh fruit, yogurt, juice, and bread with chesse,
cold cuts, and egg. What more could you ask for?
Another walk along the coast, a stop for some hot chocolate, and journal writing while sitting on the rocks was followed by lunch at a Mexican restaurant that I´ve heard is good. It lived up to the hype and even had 2 free refills on the soda.
After lunch I met up with a friend, and we took the bus from Viña to Valpo. We explored the hills, street art, rode the antique street cars, and visited the house some friends lived in when they were in Chile in 2010. Being there brought back lots of memories of my previous trips there, and it was hard to believe that almost 3 years have gone by since they left.
I did some more work for classes in the evening and the following morning, and on Sunday I made my way back to Santiago feeling refreshed.
I don´t know if it´s just me or a phase I´m going through, but lately I´ve been having cravings for gringo food. What exactly do I mean by gringo food? I´ll give you some examples:
Cinnabon (which has opened up at the Constanera Center here in Santiago)
Swiss Miss Hot Chocolate with marshmallows (which can be bought at Jumbo at the Constanera Center)
Kraft Mac and Cheese (also on sale at Jumbo)
Pepperidge Farm Chocolate Chip Cookies (also at Jumbo)
Let´s just say that Thursday that was a holiday included a visit to Cinnabon and Jumbo. Unfortunately I
didn´t think to get pictures of these things before I consumed them, but I think that most readers are familiar with these products.
My gringo cravings will be further satisfied when Denny´s opens here at the end of the month. Unfortunately I´ll be in Iquique for a teaching conference during the grand opening at the end of the month, but I know that it will be here waiting for me when I´m back.
The weather has also been warming up slowly but surely, so it will be nice when spring comes to Santiago. Until then happy end of summer for everyone reading up north!