January was a whirlwind month.
It started off with a friend's wedding. Erin came to Chile at the same time as me, and we both worked at the same colegio through TeachingChile. She has been a great friend over the years here, always willing to listen and give advice when I was struggling with a decision or difficult situation. The celebration was in the backyard of a family member's house, and it was amazing to see people flying in from California, Canada, and even France to be there. It was a really beautiful event and they are such a nice couple, and I felt honored to have been there to take part.
The wedding was on a Saturday night, and the following day I was off to Talca to prepare for the training and summer course I would be teaching.. I already had my bags packed and was pretty much ready to go, but I still get anxious leading up to any type of trip that I'm forgetting something.
The bus was comfortable with air conditioning and wifi, and we even got a drink and snack included with the bus fare. My boss met me at the bus station, and she showed me a bit of the campus and got me to my hotel.
The three weeks went by quickly. For the first two weeks we had professional development in the morning, and I got to meet the other people that work at the university. There are actually campuses in Talca, Cuircó, Linares, Colchagua, and Santiago, so it was a convergence of people that don´t always see each other. I really enjoyed getting to know the others and being in an academic atmosphere talking about effective language teaching and seeing what the university is doing with language teaching. Everyone was really friendly and helpful, and I feel very fortunate to be a part of such a great team.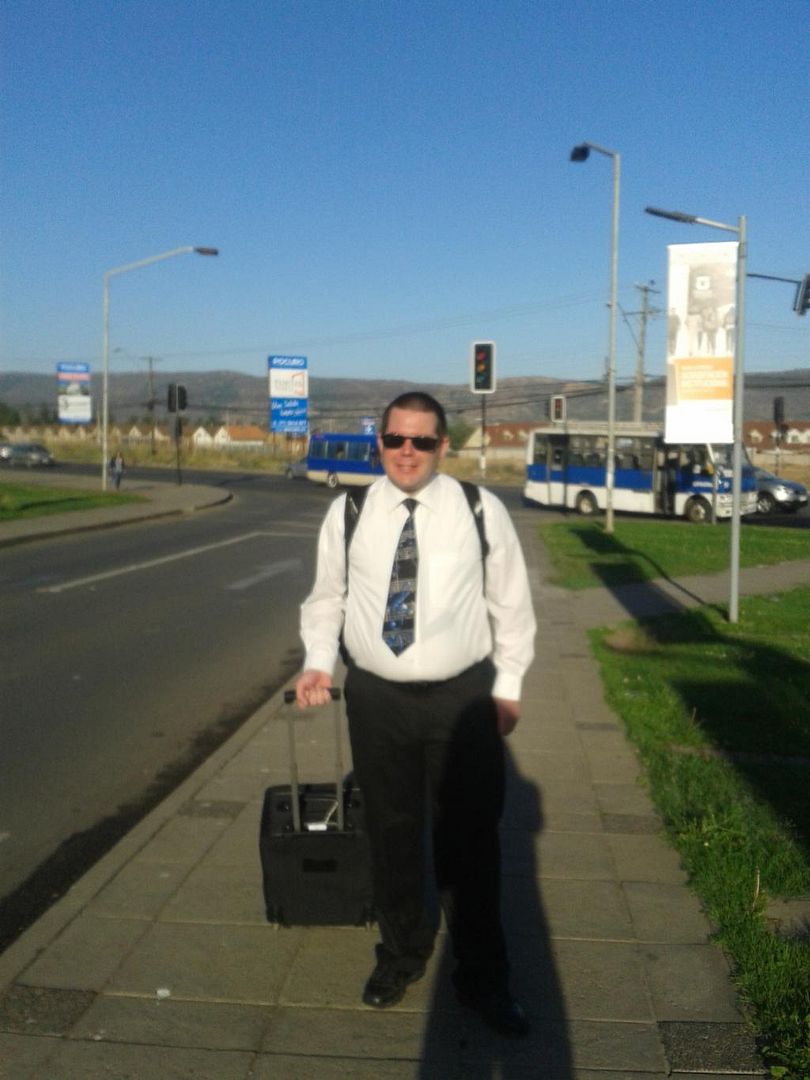 Walking on the campus for the first day of
classes and training
At the same time, I was also teaching a summer course to undergraduates. It was a really interesting experience, as I had never taught a summer course before. I had an eclectic group of students. Some of them only had the summer class left to graduate. Others decided to take the course in summer to be able to focus on English, and I don´t know if it was true for my students but some of them take the course in summer because they failed it during the academic year. They also came from a variety of different majors. I had a class of musicians, accountants, agronomists, and even business and a dental student. The students made an effort to get to know each other, and they were such a nice group. Three of them had birthdays during the class, so we sang for them. The music students planned ahead when they knew a birthday was coming, and they sang Happy Birthday with harmonies based on their vocal ranges, and it was so amazing to hear.
I was strict with the students and gave them homework to do. Homework isn´t considered a part of their grade, so I wasn´t sure if they were going to follow through and do it. All of them did almost every single assignment, and it really helped them develop and improve their writing. In the end all of the students passed, and they celebrated with a barbecue at the end of the course. It was a really nice way to finish the experience.
The days in Talca were long. We started at 8:30 and had meetings until 1 or 2 each day, and then I taught the summer course from 3:15 to 6:30. I was pretty exhausted by the time I finished, and so I didn´t have much desire to go out and explore Talca during the week except to get something to eat.
So what is Talca like you wonder? It's smaller and calmer than Santiago. The buses are smaller, and they only cost 500 pesos. You can flag them down anywhere along their set route and get off at any point along the route. There appear to be more family-owned businesses and a sense of community with people attending church each night of the week, others standing outside talking with neighbors and kids playing in the streets. There are a few malls, but the one I went to was quite small. There are some movie theaters and a few big supermarkets, but beyond that there isn't too much of a big city vibe.
I did, however, find one place that made an impression on me: a restaurant based on Homer Simpson.
In contrast to the actualy city of Talca, there's plenty to see and do in the surrounding area. Coworkers told me about taking the old train from Talca to the beach town of Constitución, hot springs to the north, la ruta del vino (the wine trail), and a nice national park called siete tazas. I stayed in Talca for one of the weekends I was there, and so I decided to do a beach trip that Sunday.
The train left at 7:30 in the morning, so I was up early and got to the train station by 6:50.
I was greeted by a long line of Chileans that were in line buying their tickets. I was getting excited as I got closer to the front of the line. Then four people in front of me the tickets sold out.
It would be an understatement to say that the people in line weren't happy. They immediately started complaining to the woman at the ticket counter about how it was unfair that they couldn't get tickets (there's only one train per day), and she calmly explained to them that there were no more seats on the train and that they have no way of knowing when they are going to sell out. They then turned to the security guard complaining in the same way, and when he didn't have an answer for them they did the same with the man in a suit that was walking into an office next to the ticket counter.
I asked them about the possibility of buying tickets online or in advance, and they don't have that capability with the old train system. I feel bad for the families that woke up early with their kids and spent time waiting at the train station, but for me it didn't really matter that much. It ended up being a nice day to walk around, do some journaling, and relax at the pool.
Before I knew it, the three weeks were over and I was saying goodbye to Talca and everyone there. It was nice getting out of Santiago for a bit and being in a place with a slower pace of life. I will definitely miss the collaboration and community that I experienced on a daily basis in Talca, but at the same time I was excited to return back to Santiago and start seeing how things are going to shape up with the English program at the Santiago campus.
Back in Santiago I got to visit the campus, and it is really nice. It is modern, and the classrooms are large with whiteboards and projectors. The building is air-conditioned, and I got to meet a few of the directors of each of the different schools. I got a campus tour and met some of the staff too, and it was nice getting to see my office and the materials I have to work with.
I had a few days back in Santiago before flying home for a visit, and it was really nice. I got to catch up with friends I hadn't seen in a while, and I did some souvenir shopping.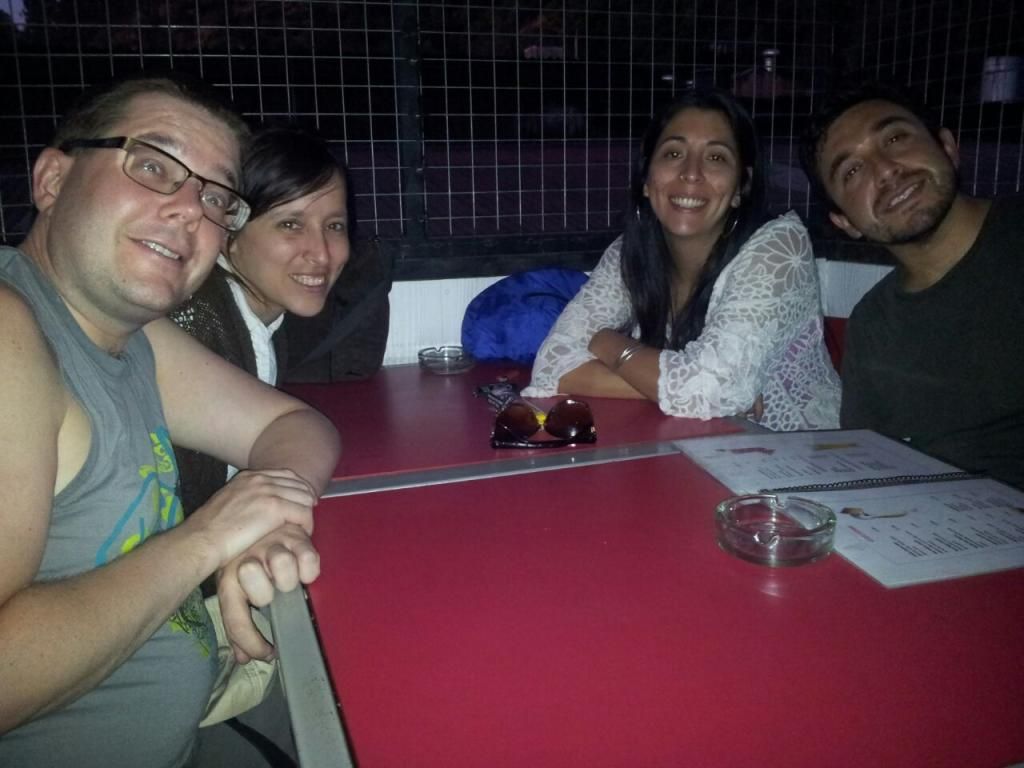 Catching up with some former students, now friends of mine
Now I'm back in the States for a visit, and I'm enjoying the time with family and friends as well as the food. I'll update more about that in a few weeks.
Ciao for now!