In an effort to save money, try new things, and be more self-sufficient, I made ají de gallina at home last weekend!
For those of you that don't know, ají de gallina is a typical Peruvian dish. It has chicken in a creamy sauce that is a bit spicy and cheesy, and there are usually hard boiled eggs mixed in and rice on the side.
Well, I didn't burn down the kitchen. I also survived eating it. Based on those two measures, my answer is an enthusiastic yes!
So, how do you make ají de gallina?
Here are the ingredients I started with:
chicken, onions, garlic, condensed milk, parmesan cheese,
carrots, white bread, tumeric, brown rice, and aji de amarillo
(yellow pepper) paste
The first step? Cut up some onions, garlic, and carrots. Put them in a pot of water with the chicken and let simmer for half an hour.
I have only once or twice in my life cut onions, and knowing the tears that result does not make it an activity to wet my pants over. After googling it, I came across the advice of cutting onions in a bowl of water. (They also suggested wearing swimming goggles while cutting, but I unfortunately didn't have any available). So here was the result of that effort:
After cutting up the carrots and garlic (not in a bowl of water), I then added them to the pot of water along with the chicken.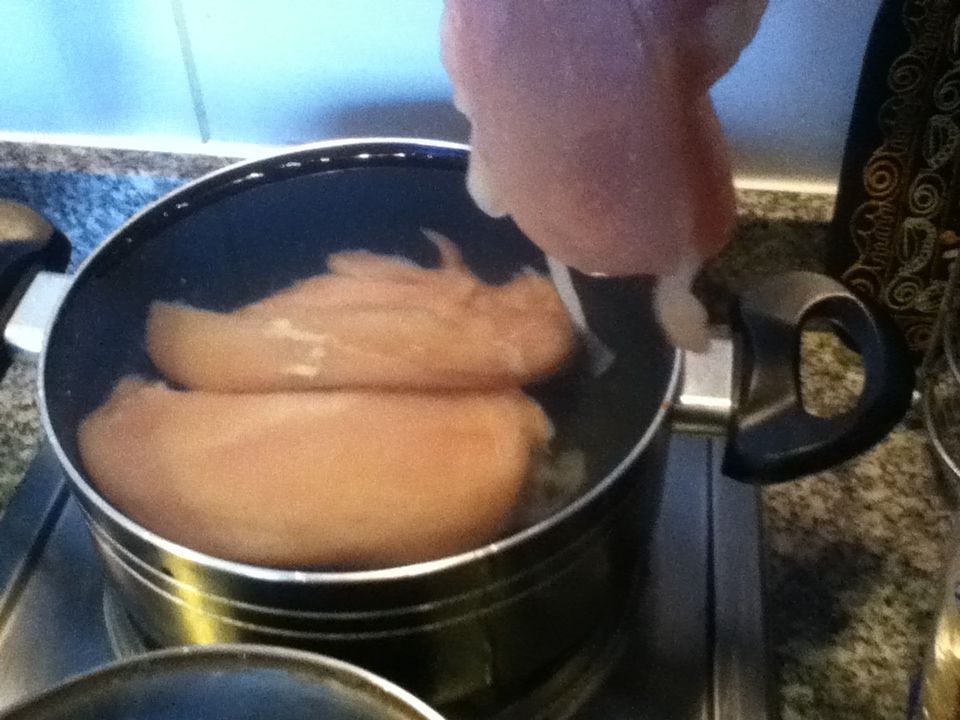 I ran into a small problem though. As you can see from the picture, the pot is practically overflowing.
The recipe called for a specific amount of water, but I didn't have any pots that were bigger. So before submerging the last piece of chicken I used a cup to scoop out some of the water.
It took a while for the water to come to a boil. Whoops, maybe I should have at least heated it up before adding the veggies and chicken.
So while that was heating up I had to cut up more onions and garlic, and the recipe also called for white bread diced into small cubes.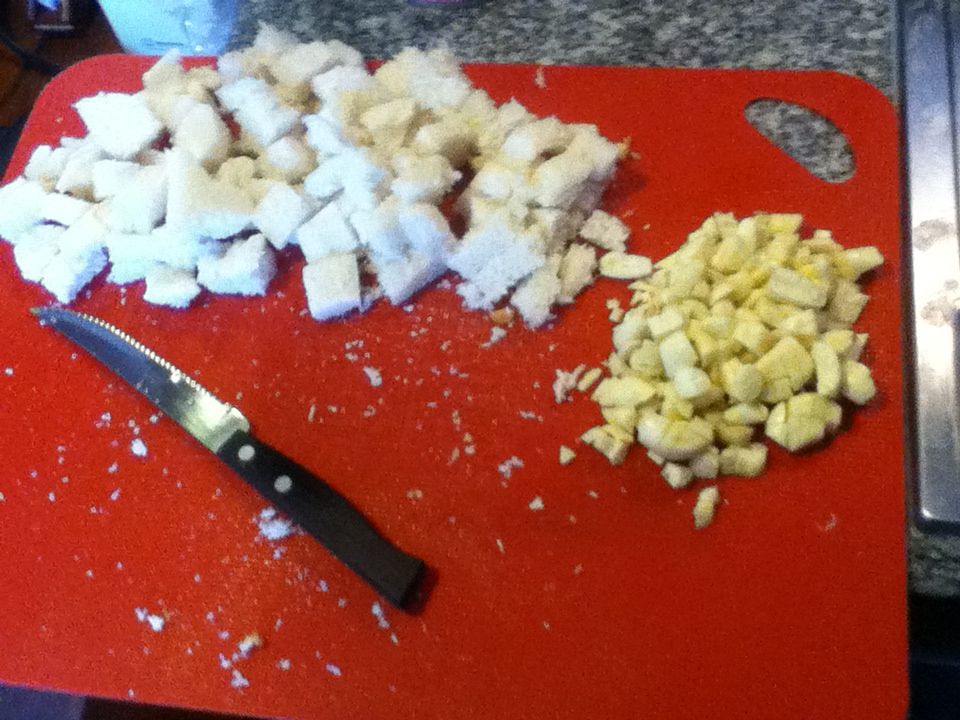 I had no idea that it would take me so long to peel off the coating of each clove of garlic! Oh well, at least the water was starting to boil now!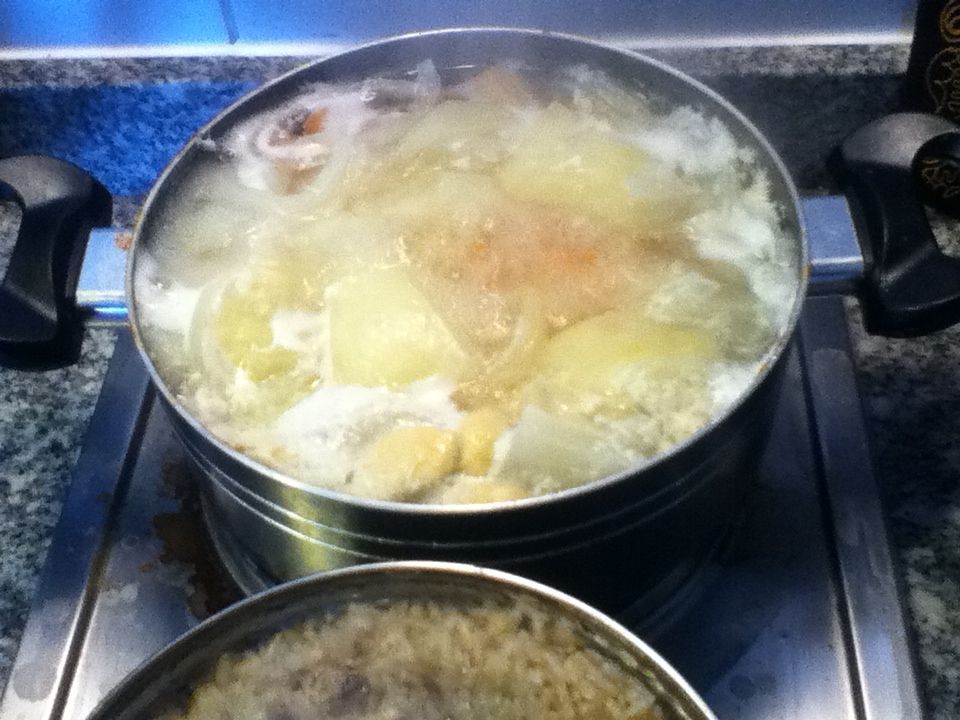 As you can see, I also put some rice into a pot to cook.
After the chicken and veggies had simmered for half an hour, I had to strain out the water (which was now supposed to be chicken stock) and use it to make the sauce.
Well, I strained it out, but to me it looked just as clear and water-like as when I had put it in the pot.
I put the water into a mixer, and added the condensed milk and bread cubes. After some mixing, I added in the parmesan cheese.
The next step? Put the garlic and onions that I had cut up before into a pan and let them cook. While that was happening I had to shred up the chicken that was supposed to have cooled off by then (but hadn't).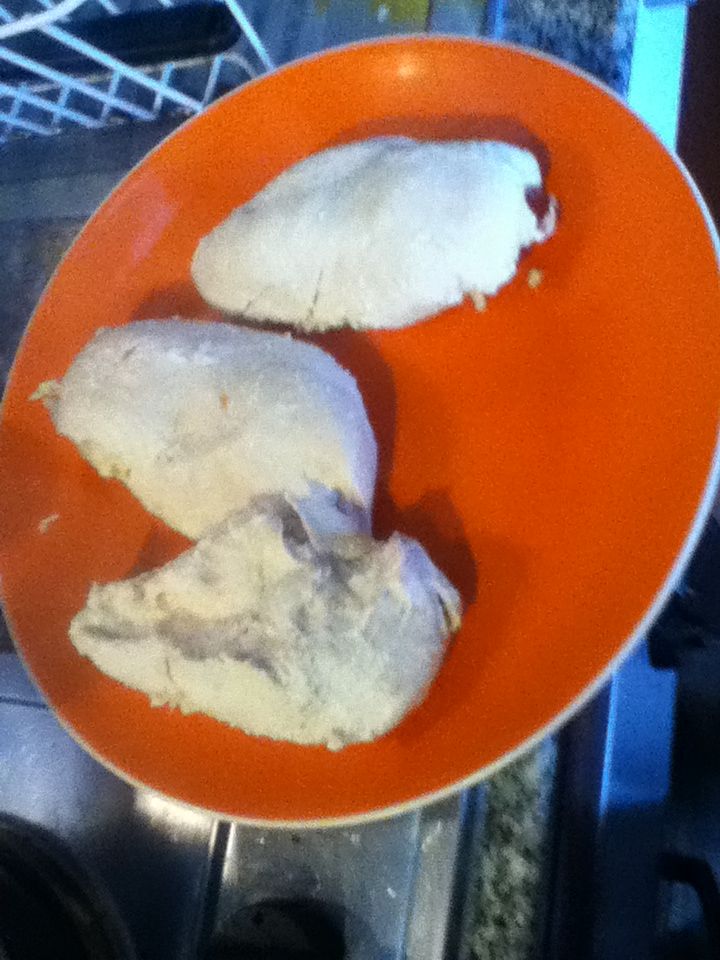 I then mixed the sauce with the chicken:
After that, I added it to the pan with the onions and garlic, and I added in the magical ají amarillo paste and the tumeric.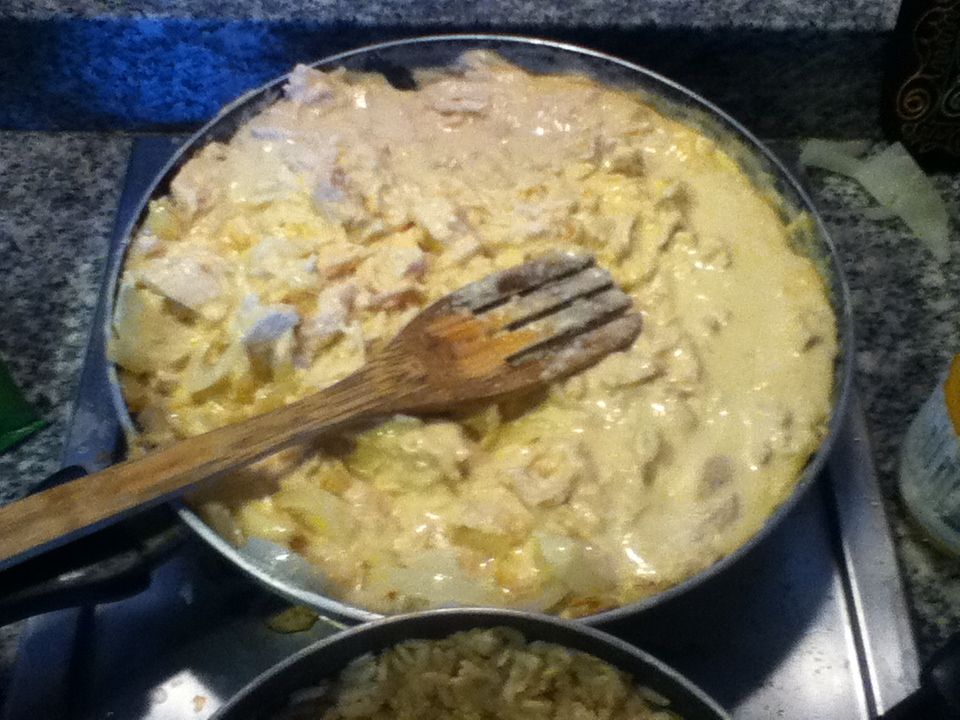 The end result of almost two and a half hours of cooking?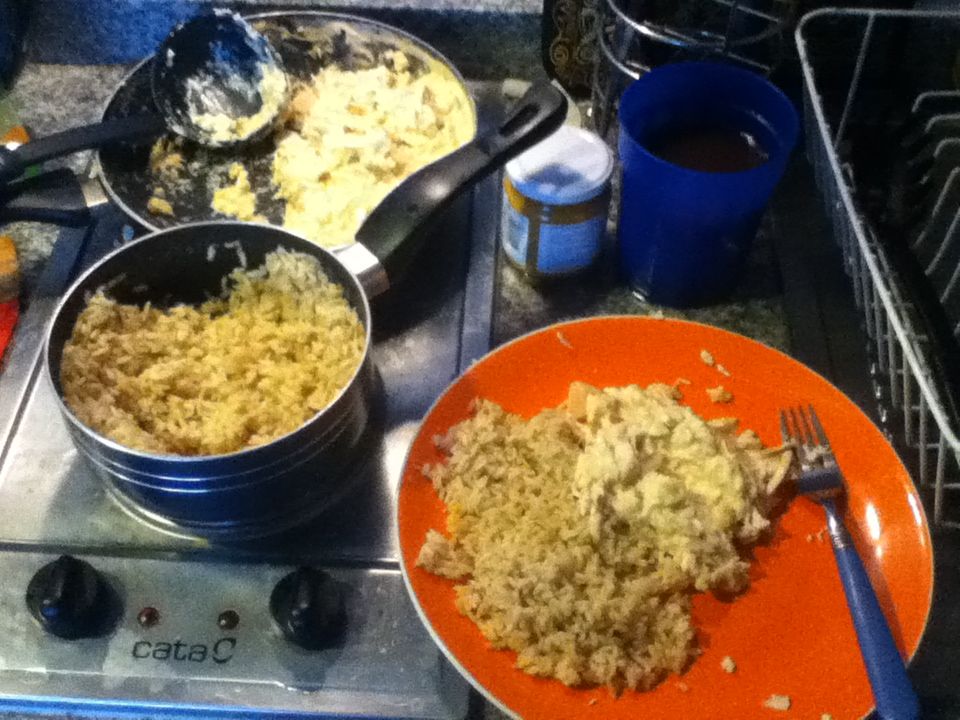 Well, remember that I said I didn't burn down the kitchen and that I survived eating it. I'm very proud of both those points.
The flavor was ok. I was worried about adding too much ají, and after looking around at a few places I gave up on trying to find walnuts (which were another part of the recipe). I also got lazy with cutting up the onions to put in the pan, so now I had long strands of onion mixed in with the chicken. (No, it's not supposed to be that way). Overall, I would give it a 5 out of 10.
What was the good that came out of this (Besides not burning down the kitchen and surviving my own cooking)?
1. I have more confidence in my cooking abilities. Growing up in the States (as in many other countries too I'm sure), cultural norms tell us that cooking is women's work and that men aren't good at it unless you are a master chef. This was probably the most complex recipe I have ever cooked, and I did halfway decent with it.
2. I have developed a deeper appreciation for the effort that goes into cooking. It can be time consuming, but it is a good way to let your mind decompress, and it lets you think things through when you have things on your mind.
3. I have a much deeper appreciation for the effort that goes into making Peruvian food. I used to order Peruvian food from a restaurant that delivers to my apartment rather often, and I never really thought about the process that the cooks go through to make what they were delivering to me. When I told one of my students about this experience (she is Peruvian), she told me that Peruvian food is delicious but also a very detailed type of cuisine to prepare.
Will I make ají de gallina at home again? I doubt it.
The amount of time I invested to have the dish turn out to be mediocre was a bit disappointing, and I made enough for four days worth of food.
Next time I think I'll go out to a restaurant to order it since there's a good Peruvian restaurant a few blocks away. Or if I'm feeling too lazy to eat out there's always Papa John's.