The second half of our trip was spent in Monteverde, Manuel Antonio, and then Alajuela.
When we left La Fortuna, we took a popular route to get to Monteverde. It consists of taking a shuttle bus to Lake Arenal, then a ferry service across the lake, and then another shuttle to get to Monteverde.
The ride ended up being a bit of an adventure once we arrived to the Monteverde side of the lake. It started raining, and so the rocky dirt roads became muddy wonderlands. Our shuttle driver floored the engine and alternated between turning the wheel as far to the left as possible, and then to the right. We jumped forward from time to time, and luckily we made it through to paved road after about half an hour.
In the end it took us about 3 hours, but that was much better than the 7 hours it would have taken us if we had gone only by shuttle.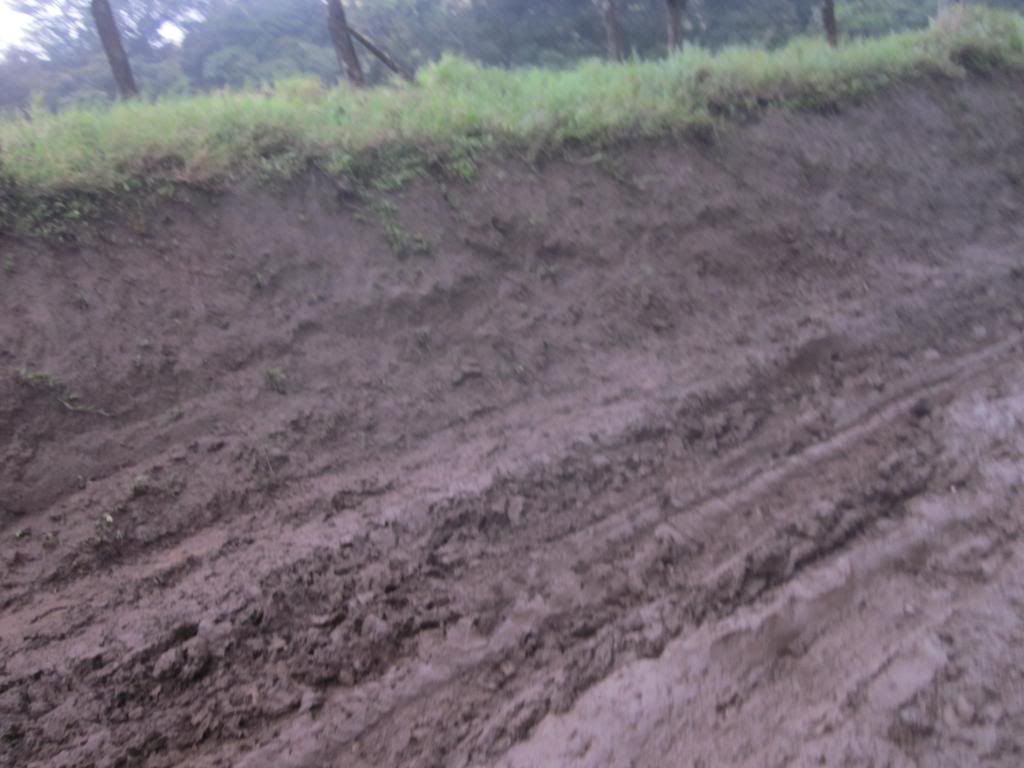 I don´t know if you can tell how deep and thick this mud is.
On the ferry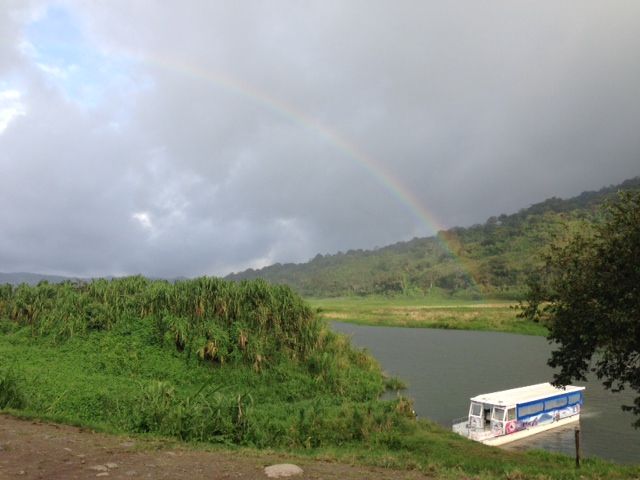 waiting for our next shuttle
When we arrived to our hostel we were greeted with torrential rain and about 60 mile per hour winds. This time we decided to get a private room with our own bathroom, and it was really nice having that luxury after being in a backpackers hostel for the previous two nights.
I asked the hostel owner if I could borrow the hair dryer to dry out my shoes, and he told me it almost caused a fire the last time someone did that. He did, however, have an interesting solution: wrap and stuff my shoes in newspaper. He actually had rolled newspaper prepared to hand out to people that needed it, so I set that up before we went out to dinner.
We decided to sleep in for Thursday morning, and so we only went ziplining at 10 instead of 7:30 like the past few mornings.
Afterwards we got chicken for lunch and then started the more relaxed part of our vacation: a coffee/chocolate/sugar cane tour.
Our guide was really knowledgeable, and it was very interesting seeing how everything was produced step by step. He gave us the beans to hold in our hand along the way, and we got some samples to taste too. I really liked tasting the chocolate and also rubbing the cocoa butter onto our hands. When you rubbed them together with the cocoa butter, your hands smelled like chocolate.
Our legs were pretty sore and so we decided we had our fill of adventure tours and hiking, so our next destination was the beach. We settled on Manuel Antonio, which is south of where we were on the Pacific side.
We stayed at the Backpackers Manuel Antonio, which is budget accommodation. And I mean BUDGET.
Let me back up for one second. Dana and I agreed that we were ok in staying in hostels during our trip, but the first hostel in La Fortuna was a backpackers hostel. It left a lot to be desired: bathroom that you could barely stand in, 6 to 18 bunk beds in a room, and intermittent or no hot water.
I decided to be a bit more spontaneous than normal. and so I didn´t worry about booking a hostel. The hostel owner in Monteverde helped us call and reserve a private room with a shred bathroom in a hostel, but 10 minutes after calling up they told us that the room was only available for one of the nights . The other night we would have to pay almost twice as much for a private room with a private bath. I was disappointed that they didn´t give us the room for the same price since it was their mistake, and we asked them to hold the room for us while we looked to see what else we could find.
This led us to the Backpackers Hostel. While we wouldn´t have our own private room and we knew it would be budget accomodations, we agreed that it would be good to save the money and that we would be able to stay there for 2 nights. Also since we were at the beach we would just need a quick shower at the end of each day.
We got a shuttle from Monteverde there, and about halfway there we had a rest stop. There ws a fruit stand that sold smoothies and all types of snacks, and a walk along the bridge there gave a nice view of crocodiles.
After the 4 hour trip, we arrived at the hostel. That day we just took care of our bus tickets to get back a few days from then, got money from the ATM, shopped for some snacks, and relaxed at the pool. Dinner was pizza from a place right next to the hostel.
Saturday was our day at the beach. We were able to get the bus directly down to the beach, and we got an umbrella and beach chairs. It was warm, and the view was beautiful. We even had a guard dog.
Afterwards we got some lunch at one of the beachside restaurants. Dana wanted to spend more time at the beach, but I decided to head back to the hostel to enjoy the pool. It was a really relaxing time, and I just wished that we had allowed another day to stay there.
looks like I missed a spot with the sunblock
The view from the hostel pool
On Sunday morning we got the bus to Alajuela. Alajuela is the city that is closest to the San Jose International Airport, and we planned on just relaxing to be sure that we arrived in enough time to not miss our flight on Monday.
We were supposed to take the bus to La Sabana, and from there we were supposed to take another bus to Alajuela. When we got off we were told to walk about 4 blocks to another bus stop, but something didn´t feel right. I asked a uniformed official about where we needed to go, and he informed us that there was a parade and that the bus we needed wasn´t running its regular route. He directed us back to where we came, and then we got on another bus to take us into downtown San Jose. From there we were supposed to be able to get another bus to Alajuela.
After conflicting stories from about 2 or 3 other people, we finally made it to the bus station that transports people directly to Alajuela. When we arrived we found out our hostel was about a 35 minute walk, so we paid for a taxi to take us there.
By this point we were starving and tired, and we made our way to the first place that looked familiar to us in a long time. And so here was my lunch:
It turns out that Alajuela doesn´t have too much to do. It was about 3:00 at that point, and our flight was only leaving at 1:45 the next day. There was, however, a shopping mall within walking distance. We checked it out and decided to catch a movie. We saw Saving Mr. Banks (El sueño de Disney), and it was a good movie. The theater had caramel flavored popcorn, but I forgot to take a picture of it!
On Monday morning we got to the airport in plenty of time and got checked in without a problem. We only had an hour and 15 minutes in Charlotte to clear customs and immigration, but luckily we made it through with time to spare. Our flight back was delayed, but other than that it was smooth sailing back home.
The trip to Costa Rica was great. I enjoyed the adventurous part of the trip, but if I want to keep doing things like that I realize that I really should be in better shape beforehand. I´m also growing a bit more discerning regarding the places I stay at, but at the same time I´m still trying to travel on a budget and don´t want to pay the cost of a hotel room. (I think that hostels are still fine as long as they don´t have the word backpacker in their title). On the trip we didn´t get to see much wildlife, and so next time I think I´d like to see the wildlife and do some more of the relaxing things like the hot springs and beaches. Nevertheless, Costa Rica was an amazing place to visit and one that I´d love to return to one day.
Pura vida!