2013 ended with an important realization: I was on my last visa page of my passport.
For those of you that might not travel or understand what that means, let me explain. Each time you leave or enter a country, you get a stamp from the country indicating the date of your entry or departure. Each passport page has room for four stamps on each side, but sometimes a customs official will put a fifth stamp onto a page. If you try to enter or leave a country without space for a stamp they will not let you through.
So how did I come to this realization? It actually happened on my way to Peru back in December when I was paging through my passport reminiscing about all of my past trips. I was amazed that I managed to fill up my passport in about 4 years, and while I did the calculations with stamps I realized I had enough space to enter Peru, return to Chile, and enter the United States again. I had the trip to Costa Rica tentatively planned for January 20th and I got back to the States on December 18th, so that gave me a month to get the new pages.
After doing some research and paying about $160 for the extra pages, expedited service, next day delivery, and same day delivery of my passport back to me I kept my fingers crossed that it would all work out. The website said to allow 5 days for my passport to enter their system before they begin processing it and that expedited service would take 2 to 3 weeks, so I was a bit nervous to say the least.
On New Years Eve my dad and I were sitting in the living room watching TV, and we saw a car pull up to the mailbox and put something inside. We were both puzzled, and I went out to check what it was.
It was my passport! I had mailed it in on December 21st, and here I was with it back in 10 days! I was really surprised but also very relieved.
So this meant that the trip to Costa Rica was full steam ahead.
I traveled with my friend Dana. For those of you that have read my blog before, she visited me twice in Santiago and also traveled with me to Miami around this time last year.
We got an early flight from Philly to Charlotte and then to San José. From what people have told us San José is not that nice, so we got a shuttle directly from the airport to La Fortuna. La Fortuna is a small town right near the Arenal Volcano that erupted in 1969 and left Costa Rica with huge craters up to five kilometers away.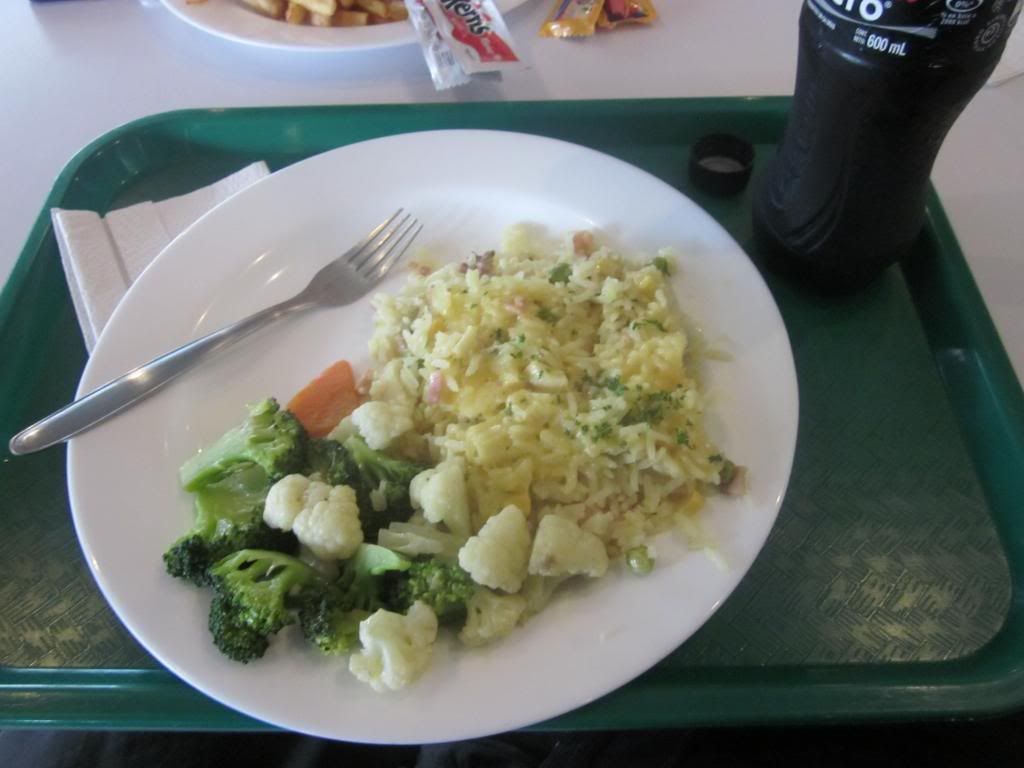 Lunch at the airport before we got our shuttle. Rice with a
cheese sauce and fresh veggies.
We arrived in La Fortuna around 6:30 at night, and so after dropping off our bags we went out for dinner and did some tour planning. La Fortuna is a small tourist town, and it reminded me a lot of Pucon in Chile: very green and small, and lots of wooden buildings and touristy restaurants and shops.
A caprese chicken sandwich with yucca
Tuesday was our first full day of the trip, and we settled on a combination full day tour. For the first part we explored the rainforest through the hanging bridges. They were created so that people could explore the area and also get a view of the Arenal volcano.
breakfast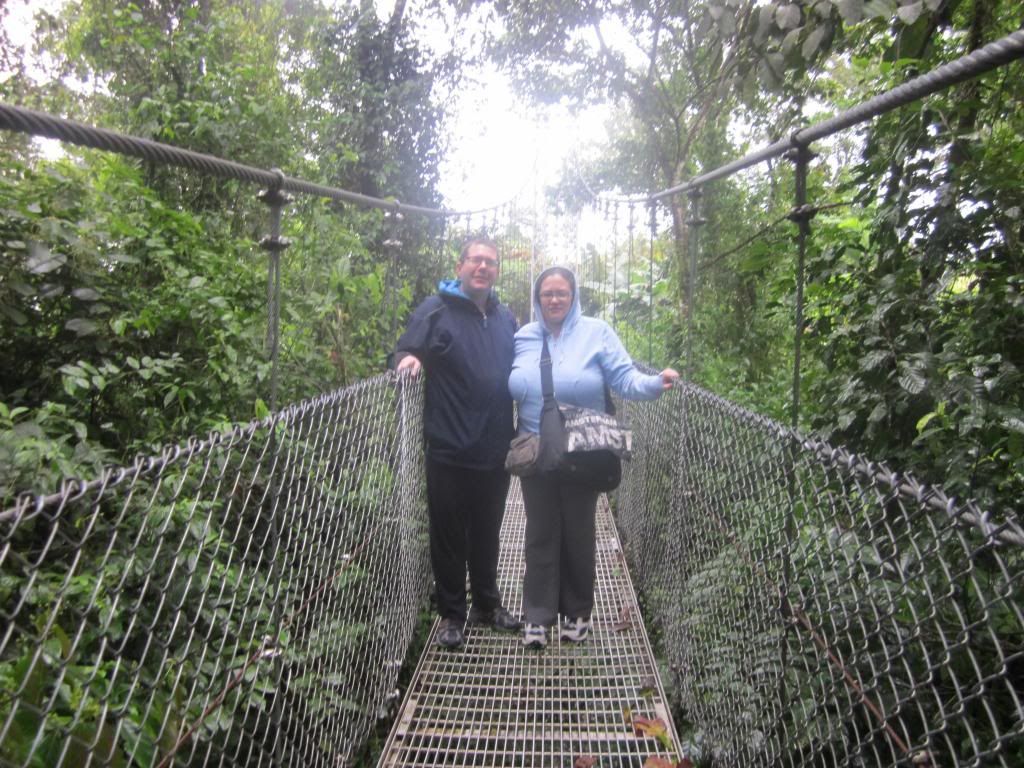 on one of the hanging bridges
the view along the way
At one point it started raining, and I wished I had brought an umbrella with me. My $4 rain jacket I got from Target wasn't cutting it. Luckily we were under the trees most of the time, and after about two hours we were back in the van for the next part of the tour.
So where were we off to next? The Fortuna Waterfall!
It's the largest waterfall in Costa Rica, and it was beautiful. The rain had cleared up while we went down, and we were able to take some pictures.
After about 5 minutes, however, it started raining again. This time it was harder than before. The guide jokingly asked us if we wanted to see the river and go for a swim a bit further down the path, and we laughed and said we wanted to get back up to dry van. The hike back up was hard (about 500 steps of varying heights and with stones and a bit of mud for good measure), but taking our time we made it back up.
After that the guide dropped us off in town for lunch. We weren't expecting a very nice meal since it was included with the tour, but we were pleasantly surprised: salad, a choice of a chicken, sea bass, or vegetable plate, fruit juice, and a dessert.
We then chilled at the hostel for a bit, and then they picked us up to go to the Arenal Volcano National Park. There we hiked through the area, and our guide showed us various plants with different uses (one can be used as insect repellent if you rub it on your body, and another helps to ease the itching of bug bites) as well as some of the wildlife there. We got to see the leafcutter ant, which was actually pretty big and had pinchers to cut entire leaves off of plants. Along the way we also heard some bird calls and got to see some birds in the trees, but my pictures of them didn't turn out too well. By the end of the tour we were wet (it started raining again), and we got used to the squish squish squish sound our shoes made. By the end of the tour they were caked in mud.
After all the hiking we were pretty tired, and so the next part of the tour was perfect: a trip to Baldi hot springs!
Keep in mind this was Tuesday January 22nd, so those of you reading from New Jersey or the surrounding area were dealing with about a foot of snow.
The place was AMAZING. It was like a resort, with hotel rooms, about 20 different hot springs to enjoy, artificial waterfalls, and bars in the water so you could sit and enjoy a drink while in the water. We explored around and enjoyed a few of the hot springs before going to the dinner, an all you can eat buffet. There was a nice assortment of food, and I think I definitely got my money's worth. Afterwards we enjoyed a drink at one of the bars before getting changed to head back.
The next time I make it to Costa Rica, I will definitely be going back to those hot springs for half a day.
On Wednesday we decided to continue with the adventure, and we went canyoneering.
So what is canyoneering you ask?
Basically you are rapelling down canyons and waterfalls using ropes and pulleys.
The van picked us up around 7:30 in the morning, and we had a 45 minute ride to where we had to go. The tour guide briefed us with the important information and also told us to prepare for a Costa Rican massage. A good amount of the roads here are not paved, and so the ride can be very bumpy. Add some rain and mud to the mix and it makes for quite an adventurous ride.
When we arrived to the tour center, we got our gear on. And then of course it started raining. We walked out to the first step of the tour, and it was called La Roca (the rock). All we had to do was jump off the platform with our ropes in place, let ourselves down slowly, and if our feet touched the rocks walk ourselves down.
Sounds pretty easy right?
Well, sometimes things are easier said than done. Dana told me she didn't know that she could do it, and I offered to go first. I was a bit nervous, but I made it down ok.
The part I didn't realize was that we were in going to be walking through streams and rivers. No matter what I was going to do, my feet were going to get soaked, and I was going to have to deal with my fear of water to one extent or another.
I waited patiently at the bottom, but Dana was having trouble. I don't know how much time went by, but at one point they blew a whistle and told her that she had 5 minutes to decide if she was going to go or not.
About a minute later she jumped off and slowly but surely she made it down. Here's what her face looked like: (and yes, she told me I could put this picture on here):
I asked if she was ok, and she said that now she was. Once she got the first part out of the way, she said that was the hardest part.
The next part was called The Washing Machine. basically we were going to rapel down a waterfall. Anyone that knows me knows that I don't like getting wet, especially when water goes over my head and in front of my face. But this was part of the experience. I got soaked, and when I got to the bottom the water was up to my waist.
After that, we had something different: a jump from a bridge into the water.
This part actually was the hardest part for me. I have a fear of water, and it's especially bad when I have to jump into water or when my feet can't touch the ground. Dana went first, and as I approached the bridge and prepared to jump I took a few deep breaths.
And then I jumped.
I went into the water, and I remembered the guides telling us to bring our knees up to our chest. I tried to do that because I thought I would collide with the floor, but I didn't. I actually sunk pretty deep into the water and tried to touch the ground. But I couldn't.
I started to panic. I flailed my arms and legs and eventually made it to the surface. The problem was I swallowed a bunch of the water in the process. I started coughing it up and gasping for air, but in the end I was ok.
The guides asked me if my right hand was ok, and I moved it around and told them it was ok. Apparently I had hit it against one of the side rocks on my way down, but luckily I didn't hurt myself.
From there on out we had some other obstacles: rapelling down without using our hands (The Freestyle), doing a Tarzan swing type jump into waist deep water, rapelling down another area (called The Chupacabra's Cave), and then doing a zipline type path through the rushing water since the water level was rising.
We were relieved to get through it all, and we then had an uphill hike to get back to the tour center. We got cleaned up, and they had a lunch of chicken and rice waiting for us.
While we were eating there was a small chihuahua running around, and Dana wanted to take a picture. I leaned over to get its attention, and then Dana leaned over to take the picture. There was only one problem we didn't think about.
We were both sitting on the same side of the picnic table, and it wasn't bolted down.
I felt us start to tip, and I called out. We hit the ground, and part of my head hit against the back of the other picnic table. Everything from the table went flying.
Luckily we were both ok, but the poor chihuahua was probably traumitized and ran into the house. The guides ran over and helped us up. They offered us another lunch, but we had both almost finished eating. We thought it was strange that they had set up our plates to be sitting next to each other, and we learned a valuable lesson: sit across from each other when we're sitting at picnic tables.
We made our way back to the hostel, and we said goodbye to La Fortuna. The next leg of our journey was to Monteverde, but I´ll update about that on my next post.
Pura vida!