February was a month of settling back in and taking care of small projects. I cleaned out my closets and donated some old clothes that I no longer wear, and I gave my apartment a deep clean. I also took a trip to the hardware store to buy a new toilet seat, as my old one had broken and would slide around when you sat on it.
It was also a month for some travel adventures. The first one was a trip to El Quisco, a small beach town about 60 kilometers south of Santiago. One of my former students got a job in the Netherlands and was moving there the following week, so she had a farewell party. Her cousins own a hostel in El Quisco, and she invited me as well as the other students from the class.
I got the address of the hostel from their Facebook page, and she told me to call her once I arrive at the bus station and she would tell me how to get there. Sounds simple, right?
Well, cue that laugh track.
I arrived at the bus terminal around noon and gave her a call. And her phone was off.
I was annoyed, but no problem, I thought. I have the address. I can show it to people and they will help me find it.
There was a small store right in front of the terminal. They instructed me to take a colectivo and simply show them the address. I managed to flag one down and get in, and we took a ten minute ride to get there. I couldn't find the exact address since the place isn't marked, but I knew when I got out I would find it no problem.
Let that laugh track roll again.
I looked up and down the street but couldn't find the address, Del ejercito 237. I asked some people that were sitting out on their patio that apparently had a bed and breakfast type place, and they told me that I wasn't on the street Del ejercito, I was on the street ejercito.
At this point I had no map, no phone number for where I had to go, and I needed to use the restroom. (There wasn't a bathroom on the bus or at the bus terminal). I explained this to the man that I was speaking to and told him I hated to ask but if it would be possible to use their restroom. He told me that all their rooms were full. I patiently explained to him that I didn't need to rent a room but just wanted to use a restroom. He pretended not to understand once again and told me that there weren't any vacancies.
I really wanted to give him a piece of my mind but held back and walked away. It was hot, and I was out of water. I had no idea where I had to go beyond the name of the hostel and the address, and I had no one to help me. At that point, I was seriously considering going back to the bus terminal and just getting a bus back to Santiago.
I took some deep breaths and tried to think things through more logically. I decided to walk back towards the main street, and there I could try to find someone to help me. I found an internet cafe an explained my restroom dilemma to the man working there, and he agreed to let me use the restroom there. After feeling much more relieved I hopped on the internet and wnet to Google Maps. I drew a rough map of where the hostel was supposed to be, and I asked the guy there for how to get there.
After thanking him profusely I realized how hungry I had become. So this was the solution:
Food helped me to refocus a bit, and I realized the map was wrong and was redirecting me back to the wrong address I had already been to.
There's that laugh track again.
Then I remembered something. Another former student named Rodrigo was also supposed to go there, and I had his number in my phone!
I gave Rodrigo a call, but he didn't answer. Luckily he called me back a few minutes later. I explained the situation to him, and he gave the phone to Francisca. She gave me directions, and I set off walking back towards the bus terminal.
After about a 20 minute walk, I came to the street Del Ejercito. And where was it located?
1 FRIGGIN BLOCKS FROM THE BUS TERMINAL
Cue the laugh track one more time.
I walked down the street towards the beach, and rang the bell. Not a bell, but I pulled a rope attached to a bell.
As you can imagine, I was relieved to see Francisca walking toward the gate to open the door.
When I arrived her cousins and family were sitting around talking, and some were preparing food. Rodrigo was only staying for another half hour, but we got to talk and catch before he left.
We sat out on the patio and talked, and the sun was warm and relaxing. I struggled following the conversation with so much Chilean Spanish and multiple conversations happening and people's talking overlapping one another, but luckily one of the Chileans there was married to a guy from Ireland. I enjoyed talking with him a bit about our experiences teaching English here.
Eventually we had once (a small meal usually consisting of bread with cheese, cold cuts, and tea or coffee), and then it was back to relaxing out in the sun and more talking.
As the sun started to set, they started to set up the grill. It was a night full of drinking, eating, and being merry. The day was quite exhausting for me, and so the merriment for me only lasted til about midnight. From what I heard it lasted for other people til about 5 in the morning.
I caught an early bus back to Santiago and was back by noon. I was really glad I went to see off Francisca before starting a new chapter in her life, and the struggle I went through finding the place taught me a few things:
1. When people tell you to call them when you arrive for directions don't expect them to have their phone on.
2. Always have a map and phone numbers in addition to addresses for anywhere you're going. I was very fortunate that I remembered that Rodrigo was there and that he called me back.
3.Don't let my emotions get the best of me. Take the time to think things through rationally.
The next adventure was going back to a place I hadn't been in 3 and a half years: El Cajòn de Mapio!
When I first went, it was with a Chilean friend. We took public transportation and hitchhiked, and it was very much the type of adventure that I get anxious about since it isn't all planned out. At the same time, I find myself enjoying those types of adventures once I have started them.
This time was with a group of people. They were mostly people from the States, save a woman from Chile and Japan. They rented a van to drive us around, so it was a much cushier trip this time around.
Our first stop was to do some ziplining. After standing around and waiting to talk to someone we found out that we were actually at the wrong location. We once again piled into the van and made our way to the place that we passed on the way there.
The ziplining was only two cables: across the river and back. Don't get me wrong. It was a cool experience, but just a bit underwhelming considering my previous experiences.
After that we got back into the van and decided to have lunch. We settled on a place called La Casa del Bosque, meaning the house in the forest or the tree house. It had quite an interesting character, as it had random statues of elves throughout the place. There was a lot of grilled meat on the menu and they had a large wine selection too. I settled on some grilled chicken and a side of potatoes mixed with cheese, and it was delicious.
I needed to get back to Santiago, as I was supposed to have a group of friends over for Papa Johns a few hours later. I came home to everyone cancelling the event because they were busy doing other things. I was frustrated because the group had come back early for me because of my social plans.
The next big thing that happened was a weekend trip to a wine festival! A Chilean friend named Fabiola told me about it, and it sounded like fun. She told me that her dad worked for a winery and that they lived in a vineyard in Santa Cruz, about an hour and a a half south of Santiago by car.
She told me to arrive at her apartment at 10 in the morning that Saturday, and then I could spend the night there and we'd go back to Santiago the following day. I headed out around 9:40, so I was running a bit late. I whatsapped her to let her know I was running late, and I got no response. When the bus got to Alameda, I noticed it was backed up. It turns out a lot of downtown was blocked off due to the upcoming changing of the presidency. I gave Fabi a call and her phone was off, and so I had to run the long way up 3 blocks, across, and then down 3 blocks to get to her apartment. I hoped that she hadn't left without me, and when I arrived at 10:30 she was still asleep!
We left around 11:30, and her dog Baltazar came with us. The ride was uneventful, and then we arrived to her parent's house. I thought Fabiola meant that they lived near a vineyard, but no, they actually live IN a vineyard.
I was surprised when we drove through rows and rows of grapes growing, only to come to a small house in one of the quietest areas of Chile I have ever been to. Her parents, brother, and her brother's girlfriend were there, and I enjoyed getting to talk with them.
By this time it was after 2, and I was hungry for lunch. We headed out to the wine festival, and after buying our wine glasses we got some wine and shish kebobs with lamb.
I was feeling pretty grumpy by that point, but the food and wine helped me feel better. Along the way I ran into one of my former CORFO students from 2 years ago, and so he and I chatted for a bit. Later on I got to meet up with another friend Rudolf, and he came with his girlfriend and a group of other friends, so I got to meet them too.
The weather was warm, the wine flowed freely, the company was great, and there was buena onda all around.
We stayed until about 10 at night, at which point Fabi and others talked about going to a dance party. At this point I was mentally exhausted from the day and asked if I could get dropped off at home. We went back to her parent's house and I turned in, and it turns out that everyone else ended up falling asleep and not going out after all.
Sunday morning we all sat down to a family breakfast, and it was really nice. Her family was interested in getting to know me, and it was interesting hearing what was happening in their lives. It reminded me of the family breakfasts I would have with my host families in Germany.
Afterwards Fabi took me, one of her friends, and her friend's boyfriend on a bike ride around the vineyard. She put her dog Baltazar in the basket, and at one point he jumped out. Afterwards he ran alongside us or learned his lesson and stayed still in the basket. It was really beautiful and such a nice way to spend the late morning/early afternoon.
We then went out to a late lunch, and I ordered pastel de choclo, (corn pie) which is a mix of corn, chicken, vegetables, and beef. By the time we got back to her parent's house it was 5:00, and the wine fair was closing at 6. I was a bit disappointed that we didn't get to go for a second day, but instead we just sat outside in the sun and drank wine at her parent's house.
We had once (a meal like dinner with bread, cold cuts, and tea/coffee) around 8:30, and we only left to go back to Santiago at 10:30 that night.
I got back home around 12:30 Sunday night, and I was exhausted but felt great after such a relaxing weekend.
Now for the randomness that has happened in the past few months:
1. I'm famous! One of my friends spotted me in a Youtube video from a teaching workshop that I went to about 4 months ago. I appear three different times in the video. I tried to embed it here, but it didn't work, so you'll have to click on this link to see it:
http://www.youtube.com/watch?v=Y7APlLSCtAU
2. I got to meet up with a fellow Oxy alum in Santiago about 3 weeks ago! Amanda was traveling around Bolivia when I noticed her Facebook pictures and sent her a message, and it turns out she was coming to Santiago. Due to my weekend in Santa Cruz and her travel plans, our only option between our schedules was to have breakfast on Monday morning. We met up at Domino, and it was great seeing her. For those of you that don't know, I graduated from college in 2005, so it has almost been 10 years! It was great hearing about what she has been up to both personally and professionally and to hear about other people that we both knew from our graduating class.
3. I made the goal of giving myself more free time to be social and get out and spend time with my friends, and it has been working out nicely. I enjoy meeting up with friends and catching up over a meal, so here are some pictures of that happening: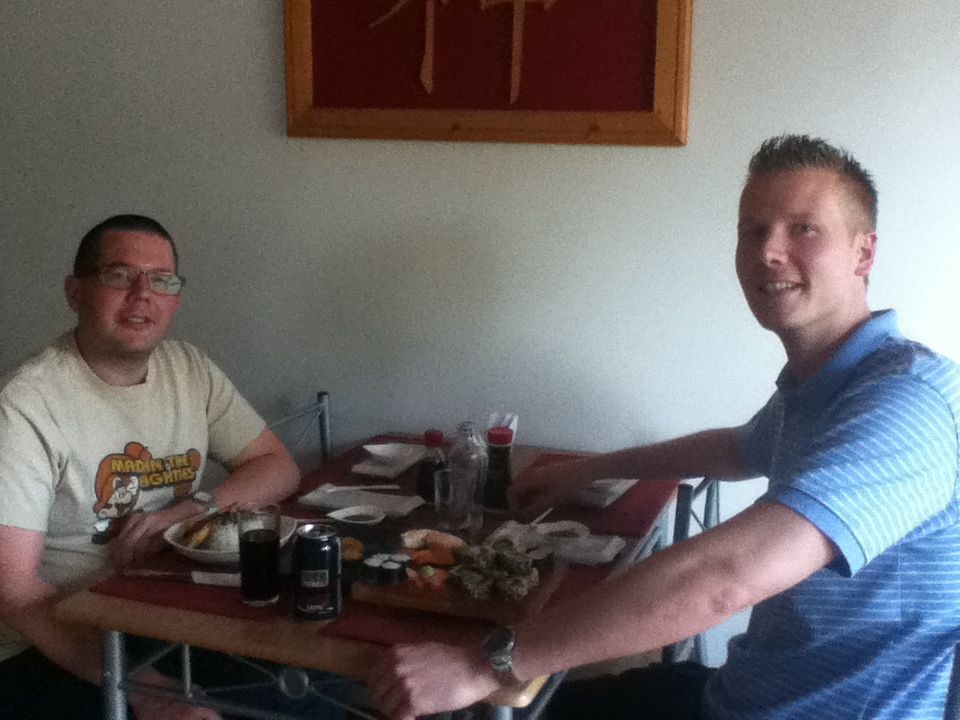 With Rudolf, one of my video game/wine friends.



The video game bar that opened a block from my apartment.
A few drinks while we play some video games
We played Wii U for 5 hours and beat a game!
A potato bowl with chili and meat
German food with a friend
4. Last but certainly not least, I have a new job! About 3 weeks ago I had an interview and accepted a position teaching English at the servicio de impuestos internos, which is the Chilean tax service. It came about very quickly and fell into my lap, but I'm happy with the change. I'll write more about it in my next update.