The past three weeks have gone by very quickly, and in less than 15 hours I'll be on a flight back home for the holidays.
Thanks to Britt's advice I can now use photobucket to store my pictures and then put them up on here. I'm in the process of uploading them there and will then transfer them for this post and my previous post.
So, what has been happening down here since my last post?
I've finished up my classes. It's always a bittersweet feeling because I really enjoy teaching and look forward to classes with my students, but I also look forward to having some time off. I feel very fortunate that the kids I work with are so well-behaved and want to learn. To finish up our classes we baked chocolate chip and sugar cookies, and the families have told me that they want to continue with classes for next year.
My adult classes ended well also. I'll continue with my private classes and will have to see what students I will have next year at Grants. Between my schedule and the students' very full work schedules it's not always easy to find times to continue with the same teacher, and part of me feels like continuing with the same students can leave you too comfortable and less willing to try out new things and continue to challenge the student. We'll see how it all works out.
My boss throws a Christmas party at the end of each year, and this was actually the first year I have been able to go. It was in a park, and the weather was beautiful. It was a catered event with plenty of delicious Peruvian food, meat, and drinks.
There were also some games: a water balloon toss, a 3 legged race, a puppet show in which we were put into groups, and a Secret Santa. It was truly a great time and I wish I had been able to go to the parties the past two years.
This picture gives you no idea how huge those pots were.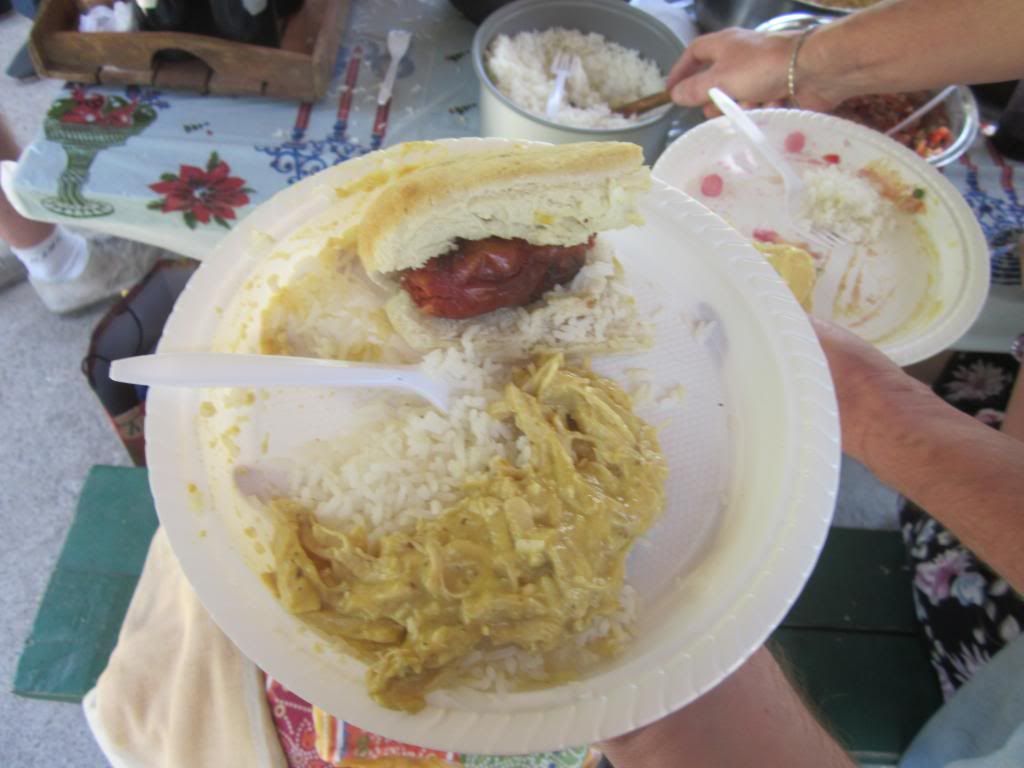 I can't believe this was my first time having aji de gallina!
After a year in Taiwan Tim is back in Santiago!
Our prize for coming in second on the 3 legged race!
The clue that we unwrapped that told us our puppet show groups
After walking with a coworker and waiting for buses and taxis for about 45 minutes, we finally got one to take us to the metro. I was home for about an hour and a half before I then headed out for the bus station.
Where to this time you ask? Puerto Varas and Bariloche!
I was in Puerto Varas back in September with Dana, but it's such a nice town that I wanted to spend a day there before traveling across the border to Argentina. The overnight bus was as comfortable as could be expected, and I was able to sleep fine. I got in around 10:30 in the morning and dropped my things at the hostel. Breakfast was already over at the hostel, so I went into town and got some hot chocolate and an apple crepe at the same place I ate at last time.
After enjoying the meal and free wifi I decided to walk along the coast a bit. The weather was cool but sunny, and I found a nice place along the coast with a beautiful view. There were a few fishermen out on the rocks, and I decided to sit down and write in my journal. It was so quiet and peaceful, and it reminded me of times when I did the same thing in Spain and Venice Beach.
I only had the day but still wanted to do something with it, so I decided to check out the tourist information office. I came across a brochure for ziplining, so I gave them a call. Surprisingly they told me that they could organize a tour for any time I wanted that day, so we arranged it for 4 that afternoon.
After heading back to the hostel to shower and change clothes I met the company near the tourist office, and we headed to Cerro Phillipi. It's the main mountain/hill in the area, and it's absolutely beautiful. After a short training on how to use the ropes and gloves we were off! The tour guides were gracious enough to take pictures along the way.
View while ziplining
The ziplining altogether was about an hour, and the thrill and views were worth it. Afterwards I walked back into town, got some dinner, and relaxed at the hostel.
Sunday morning I got an early breakfast at the hostel and left for the bus station bright and early. The ride to Bariloche was supposed to get me in at 1:00, but after the border crossing it was closer to 1:30. Bariloche is a small town in Argentina that is well-known as a ski resort in winter, but its chocolates and moutanins are famous year round. Upon arriving I decided drop my bags and wander around to get a feel for the area. Most of the food was overpriced in restaurants, and I could see that the warnings of it being a tourist town were very true. There were also a ton of chocolate places. I visited a few of them to get a sense of the prices.
Based on the weather forecast I decided that the next day I'd be best off doing some mountain biking. There was a promotion of 2 for the price of 1 for bike rentals, and the hostel employee suggested trying to find someone else to go with me. I didn't have any luck that night, but in the morning I did.
I was up early for breakfast and got a shower to avoid having to wait, and I was down in the common area checking my email on my Ipod. I heard a woman talking about blogging and traveling at the breakfast table, and she mentioned wanting to do a tour that day but not knowing what to do. I asked her about the bike tour, and she said "Sure! I'll be ready in 20 minutes!" I was surprised at her spontaneity but also happy to have someone to bike with for the day.
After getting a bus card and putting money on it we took the bus out to the bike rental office. We got our bikes, and they outlined the suggested route. We could see that it was a good distance (about 26 km round trip) and that it was also very hilly, but we were told that there was no shame in getting off our bikes to walk when necessary.
The ride was so beautiful and relaxing. We had views of the mountains, lakes, and lots of flowers. We went at our own pace and talked along the way, and it was so interesting talking with another traveler. She had been traveling for 2 years and was in the last 3 days of her trip, and I can only imagine the stories and experiences she has had over that span of time. Including stopping for a lunch break the trip was about 4 hours, and we were content to go back and relax at the hostel for the evening.
The next day the weather wasn't supposed to be as nice (cloudly, cool, and rain starting in the afternoon), so I booked a tour to see Cerro Tronador and the Black Glacier. We would spend most of the time in a van with minimal walking, so I figured it would be a good way to spend the day given the weather.
Unfortunately the tour didn't live up to my expectations. The view along the rivers and some of the waterfalls were cool, but the tour guide spoke with no pauses and didn't stop to ask us any questions. When walking through areas she didn't speak loudly and she began talking once she arrived at a stopping point. Some of us only reached that stopping point as she finished talking and was ready to move on to the next area. There was also a misunderstanding about lunch. Our hostel told us that we could bring our own lunch to eat since it's very expensive there, but then the tour guide insisted that it's illegal to bring your own food into the park and told us that we would have to pay for a picnic table and sit in the rain or we could get a table at the restaurant and order some additional food there. When we tried to explain to her what the hostel told us she was really rude and told us we were wrong and that she was expecting us to eat in the restaurant. A couple and I just stayed in the van and ate there, hoping the tour would be over soon.
Our enthusiasm to see the Black Glacier had long dissipated by that point, and it started raining heavily. I snapped a few pictures and headed back to the van, and from there it was about a 3 hour trip back to town.
I was cold and wet, and the rain had become steady. After having had hostel breakfasts for 2 mornings and sandwiches for lunch for the past 2 days I decided to get a nice dinner. I found a restaurant that looked nice and had a nice menu. Albeit pricey, I wanted a good meal and settled on some cream of tomato soup and veal with potatoes. I splurged on some chocolate mousse for dessert too, and it was a nice way to end a less than perfect day.
Wednesday the weather forecast called for rain and cold weather all day, and I was content to just make it a lazy day. I wandered around town, drank hot chocolate, wrote some postcards, and got lunch at the same restaurant. I went for the cream of tomato soup again but settled for some pasta as the main dish and skipped dessert. I also bought some chocolates to bring back with me.
Later in the day I also met another really interesting person at the hostel. Would you believe it if I told you there was a person who grew up not having electricity at home until he was 20? This guy grew up on a huge ranch with his family, and they lived off the land. He lived in the Malibu area doing that until he was 20. He decided that college wasn't right for him and took classes to become a guide for rock climbing, and he was traveling around Argentina to climb some of the mountains. He's planning on taking 2 months to climb one near Bariloche, meaning he'll be climbing it or living on it for both Christmas and New Years. Talk about an interesting way to spend the holidays.
Thursday morning I got an early breakfast and was then on a bus back to Puerto Varas. We got held up at the border due to a problem with the bus in front of us as well as some people on our bus bringing illegal products (mostly wood things) into Chile, so instead of arriving at 1:00 we got in at 2:30. It ended up working out fine, as I was able to get lunch at the same restaurant with wifi. I hung out there for the entire time and then got a colectivo to the other bus station for the overnight trip back to Santiago.
The bus ride back was also uneventful and as comfortable as could be expected. We got in at 5:50 in the morning, and luckily the metro was running. It was a great feeling to be back home.
My last few days here have been busy with cleaning, packing, buying gifts, some pool time, and catching up with friends. Some are heading back to the States, and others are moving on to Asia or England. I have met some amazing people this year, and I'm going to miss having them in my life here in Santiago.
Now I'm off to pack, clean, and enjoy my last warm summer day until February!